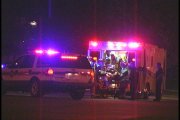 A 24-year-old man was flown to a Kansas City area hospital after he was hit by a car early Monday morning outside a Lawrence bar.

Emergency vehicles were dispatched to the 600 block of Crestline Drive at 1:57 a.m. Monday. Lawrence Police Sgt. Michael McLaren said a vehicle struck a pedestrian and left the scene traveling west on Sixth Street.

Lawrence police would not identify the pedestrian Monday, but said he was airlifted from the scene with facial lacerations and other serious injuries.
Lawrence Police Sgt. Dave Hubbel said the man's condition was believed to have been stabilized by Monday afternoon.

According to Douglas County dispatchers, witnesses said the man may have been lying in the street outside the Ranch, 2515 W. Sixth St., when he was struck by the passing car.

Police are still searching for the vehicle, described as a silver Nissan Maxima driven by a white male with a white female passenger.
Anyone with information is urged to call the Douglas County CrimeStoppers Tips Hotline at 785-843-TIPS.
Copyright 2018 The Lawrence Journal-World. All rights reserved. This material may not be published, broadcast, rewritten or redistributed. We strive to uphold our values for every story published.