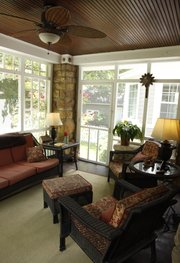 DIY tips
Thinking about creating your own outdoor living space? Glen Westervelt of Lawrence Landscaping offers a few tips:
Make it big enough.
"People tend to build too small," Westervelt says. "Then, they want to put a glider and a dining table on it and run out of room. Before you start a deck or patio, I lay out all your furniture on the lawn in the way you want it so you can really see the space you're going to need."
Consider the realities of your lot when choosing a spot.
"Everybody wants a patio that's nice and level. But, of course, very few lots are perfectly flat. Chances are you'll have to change the grade or add retaining wall."
Pick the right trees.
"Most people want fast-growing trees for shade or privacy," Westervelt says. "We use a lot of Autumn Blaze maple, native red cedar and Green Giant arborvitae."
Choose a surface to fit your budget.
"You can go anywhere from the basic concrete you have on your driveway to flagstone, which is more toward the top end, to pavers and stamped concrete. There are all kinds of options now. People just have to shop around."
After a long, dark and wet winter, Lawrence residents are eagerly reclaiming their place in the sun — or shade, as the case may be — by enjoying restful retreats in their own backyards.
Outdoor living has been trending up for several years. In 2006, according to the American Institute of Architects, almost two-thirds of architects reported an increase in outdoor living requests.
"It seems like it's pretty sustainable," says Glen Westervelt of Lawrence Landscaping. "We've definitely seeing an increase in outdoor living area-type projects for the last couple of years."
With Westervelt's help, Lawrence resident Bill Brady created a multi-functional patio suite with living and dining areas, tiered gardens and space for the family hot tub on their West Lawrence lot abutting the new walking trail that feeds DeVictor Park.
"We jokingly call it the Brady Trail," Bill says. "We knew it was going in when we bought the house, and we wanted to embrace it. We built as close to the city's easement as we could get. We literally used every foot of backyard we had available."
Next to the expansive stone patio, a heavy wooden pergola doubles as a privacy screen backed up by a berm planted with pine trees.
"People come by all the time," Bill says. "We can see them and interact with them, if we want to. But when we're sitting down, nobody knows we're there.
"The trees and plants will eventually fill in, we hope, so it'll be more private. Especially for the hot tub."
Nancy Brady enjoys the seclusion when reading under the pergola but says the patio's proximity to the trail has enhanced the family's social life.
"I love getting to see all the neighbors and their kids walking along the trail," she says. "It's nice to get a little wave or recognition. I feel like it brings us together with a lot of people."
Bill admits the project requires a good bit of effort to maintain, and they still haven't solved that pesky Kansas bug problem, but the payoff is worth it.
"It's a lot of work but it's amazing the difference a little elevation change can make. It's much cooler down here than it is up on the deck in the sun."
Old West Lawrence resident Mary Winter says it wasn't the heat but the insects that made her rethink a nightly summer ritual on her expansive wrap-around front porch.
"I used to sit out on there with my glass of wine and read almost every night," she explains. "I don't care if it's hot, and I don't mind the humidity. But, then I'd have to turn the light on and all the bugs came. So, one day I just had this idea."
The notion was to frame and screen-in the southeast corner portion of the porch.
"It was pretty easy to do," Winter recalls. "The hardest thing was to knock the window out (to create the door) because there was limestone beneath the window. But, the flooring was already here and the ceiling. Basically, all they did was put up studs and screens and run the electricity."
Winter furnished the porch inexpensively with wicker chairs, lamps and rug, all from Target.
"We didn't want to get too pricey because we didn't know how much weather was going to come in and out of this," Mary says. "Although it has stayed pretty dry except for that day a few weeks ago when it rained sideways. Then, I came out and there were pools of water on the cushions."
The Winters' modest investment paid off as the porch is one of the most lived-in areas in the house.
"We eat breakfast out here. And lunch. When we're not inside, we're out here," Mary says. "Even in July, I'm out here. That's when I just flip on the fan."
Copyright 2018 The Lawrence Journal-World. All rights reserved. This material may not be published, broadcast, rewritten or redistributed. We strive to uphold our values for every story published.