Johnathan Duncan remembers returning in July 2007 from his 16-month tour in Iraq with the Army National Guard.
Duncan, 24, originally from Newton, tried to adjust from the hectic life in a war zone to attending classes at Kansas University with 17- and 18-year-old students.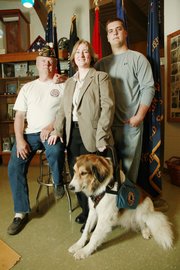 -->
Today's services
• The American Legion ceremony will be 10 a.m. at Oak Hill Cemetery, 1605 Oak Hill Ave.
• The Veterans of Foreign Wars post ceremony is at 11 a.m. at Memorial Park Cemetery, 1517 E. 15th St.
• The Perry-American Legion will conduct a Memorial Day service at 11:30 a.m. Monday in Maple Grove Cemetery, Lecompton.
Being able to talk with Lawrence World War II, Korean and Vietnam veterans is one thing that has helped Duncan adjust. The Iraq War veteran and KU senior is one of the younger members of the Veterans of Foreign Wars Alford-Clarke Post 852 in Lawrence.
"It was great to meet guys and ladies who were like-minded and who have the same experiences and background that I just came from because it's really kind of hard to relate to people when you first come back," said Duncan, the current president of the Collegiate Veterans Association at KU.
Leaders of the Lawrence VFW post say outreach to veterans of the Afghanistan and Iraq wars, especially ones in college, is key for the post, especially as more World War II veterans die or become less active in the organization.
Changes
Noble Lathrom, the post's adjutant and service officer, said sometimes younger veterans are not aware of what the post does, and he said there's also a generational gap among veterans from different wars.
A majority of the most active VFW members now served in Vietnam, like Lathrom, an Army combat engineer who retired as a sergeant in 1969.
"Whenever we went to Vietnam, we went as an individual and came back as an individual," he said. "What they're doing now, they're going as a unit and coming back as a unit. So they have a tendency to group together."
The Lawrence VFW has had some success tapping into the Collegiate Veterans Association at KU and has added about 15 younger members like Duncan.
Still, it's difficult because the post relied on a large number of World War II veterans for decades, said Jerry Karr, the post commander and a Vietnam veteran. More and more are dying every year, Karr said, as he pointed to the list of members' names at the post hall, 138 Ala. A small black placard denotes living members, and white ones are for those who have died.
"We're adding white names to the board all the time. We've got a lot of people passing," Karr said.
Officially the post has 419 active VFW members, but contact has been lost with some, who are probably in nursing homes or no longer alive, Karr said. The core group of active members is a few dozen.
Because of smaller numbers, mostly due to losing so many of the World War II veterans, the post is exploring options, like selling its building near Lawrence Memorial Hospital and moving to a smaller space.
Among all the possible changes coming, post members said they are still working to reach out to younger veterans and the community.
"It's really hard because of the difference in the age groups," said Betty Schrader, president-elect for the VFW post's Ladies Auxiliary.
The video game "Guitar Hero" now has its place in the post hall, said Schrader, whose son served in Operation Desert Storm in Iraq.
Reaching out
Wayne Thompson, a Desert Storm veteran, was recently elected as the post's senior vice commander. He wants the post to be able to reach both younger veterans and VFW members who have become less active with the post.
Being a member involves "more than sitting around and drinking beer," he said.
"People in the VFW have a lot of opportunities to help a lot of other veterans," he said. "For me it helps to talk to other veterans, especially other combat veterans, because it helps heal."
To try to recruit younger veterans, the post and auxiliary also work to send care packages to units serving in Iraq and Afghanistan.
Clay Westerlund, a KU student and sergeant currently serving as a psychological operations specialist in Iraq with the Army Reserve, said he is looking forward to receiving care packages.
"It truly shows the solidarity and brotherhood that we all become a part of after serving overseas," Westerlund wrote in an e-mail last week.
The VFW also offers a $500 scholarship to one student at each Lawrence high school.
Lathrom said the VFW can also help younger veterans learn about veterans benefits.
Karr said getting younger veterans involved will be crucial for the post's future.
"I think you're going to see younger guys when they get a little older starting to come into this," Karr said. "You have to prepare the way for those after you."
Duncan, the KU student and Iraq War veteran, said it's refreshing to meet with and talk to older VFW members.
"The thing about being a veteran is that immediately you are part of a family," he said. "They immediately accept you."
Copyright 2018 The Lawrence Journal-World. All rights reserved. This material may not be published, broadcast, rewritten or redistributed. We strive to uphold our values for every story published.