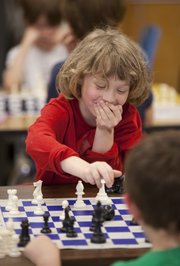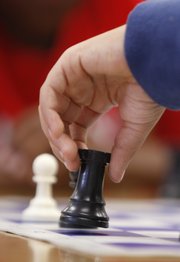 On the street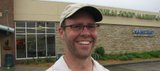 Both. Checkers was my favorite. My grandpa enjoyed playing it with me.
Parents, if you're hoping to mold your child into the next Bobby Fischer (minus the late Grandmaster's weird behavior in exile, of course), you'd better get those aspiring chess prodigies pushing pawns early.
"I'm told they have until about age 12," says Lawrence chess coach Steve Robinson. "At that point the brain is essentially mature and hard-wired. You don't have the same opportunity for brain development after that. There is some literature that suggests chess can raise IQ … It builds neural pathways that wouldn't be there otherwise."
Chess in recent years has lost much of the geeky stigma attached to it and been viewed more as a childhood activity on par with any extracurricular pursuit, including athletics. Most Lawrence schools, from kindergarten through 12th grades, offer chess clubs alongside soccer and baseball.
"A lot of the mental edge you need in sports also plays a role in chess," says Quail Run School Chess Club coach Johan Feddema. "In that sense I think it's a very good activity for kids to learn how to cope with competing and picking yourself back up and going back and doing it again."
But don't just take the word of local chess experts. Daniel Naroditsky is an old pro in the world of competitive chess — the San Franciscan became a World Champion in 2007, has officially earned the title "Master," belongs to the prestigious Mechanics' Institute Chess Club and is a published author on the topic of chess strategy with his recent book, "Mastering Positional Chess: Practical Lessons of a Junior World Champion." Oh, and he's only 14.
"Chess has given my life a third dimension," says Naroditsky, currently in eighth grade, who's been playing since he was 7. "First of all, chess taught me patience and not being rash with my decisions. Obviously it taught me about planning out my future decisions, because in chess you have to plan what you're going to do. I would also say it's given me a work ethic. I mean, in order to improve at chess, you have to work and study a lot. It's really helped me in other fields at school because I've developed that work ethic. I find it easier to study now."
Boosters don't stop there when it comes to ticking off the potential good in a child's life that can come from chess.
"I could probably make a list of dozens of benefits," says Robinson, who has trained children in chess for nearly 25 years. "Besides the idea of just academic performance, which is kind of obvious, there's self-esteem. One other thing, and it's something that's kind of counter to the stereotypes of chess kids as being nerdy, is that it's a very social activity and builds social skills in a lot of kids. I've had kids that were perhaps borderline autistic, or at least very socially awkward, who really improved socially over a period of two or three years as they're developing as chess players and their confidence improves. They learn to interact with their teammates in a much more fulfilling way."
The game of knights and bishops, it turns out, is viewed by its adherents as much more than a game. They believe strategies and lessons you apply to the board can be applied well beyond.
"One thing I like telling aspiring players is that, often, they'll have a few bad tournaments or lose a couple of games in a row," advises Naroditsky. "It's very easy to get discouraged then. But the mark of good players, and how good players become even better, is that they learn from their losses. Even though you might lose a couple of games in a row or you might have a really bad tournament, it's in those lost games and bad tournaments that you improve the most. I would say you need to persevere and don't get discouraged by your losses. It happens to everyone."
Copyright 2018 The Lawrence Journal-World. All rights reserved. This material may not be published, broadcast, rewritten or redistributed. We strive to uphold our values for every story published.