Maize High's softball team decided it was going to try something different before the championship game of the Class 6A state tournament on Saturday at Arrocha Ballpark.
The Eagles — all 15 of them — applied heavy doses of eye black to their faces, giving off the appearance of a squad that meant serious business. Either that or Maize was celebrating Halloween in May.
Call the anti-glare black paint the Eagles' good-luck charm. Maize crushed Olathe South, 10-4, to win its first state softball championship since 1998, when it was a Class 5A school.
Photo Gallery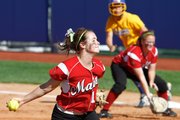 6A State Softball Tournament: Maize vs. Olathe South
6A State Softball Tournament: Maize vs. Olathe South
"We figured we made it to state. Might as well go all out," Maize senior pitcher Katlyn Kern said of the eye black that slid down the sides of the players' faces. "Pretty much, intimidation. We were feeling pretty cool (laughs)."
So how long would it take Kern and the rest of the Eagles to remove the anti-glare make-up?
"Not too long," Kern said. "It's kind of coming off with our sweat already."
The postgame celebration brought back euphoric memories for Maize coach Jenny Meirowsky, who played for the Eagles as a sophomore when they won their first state softball title in '98. What felt better, winning it all as a player or coach?
"I think maybe the coach," said Meirowsky, the recipient of a celebratory bath from players who poured a water cooler over the coach's head without her prior knowledge. "I really do. It was a lot of fun. When you have control in your hands, and when you're coaching, you can just hope the girls do everything that you've shown them and taught them, and that they play their hearts out, and they did ... I'm just so proud of the girls. It's overwhelming."
After Kern induced a ground ball to end the game, Eagles players surrounded her and jumped up and down to celebrate the victory. It was an impressive accomplishment for a Maize team that entered state as the No. 5 seed and knocked out previously-undefeated No. 1 Washburn Rural, 5-3, in the semifinals.
"I don't even know what to think right now," Kern said. "It's just crazy. It is amazing. It's the best feeling."
Kern pitched a complete game, surrendering 10 hits, three earned runs and two walks. The senior struck out seven and escaped two bases-loaded jams.
"They could hit off me all day, and I know that my team would have my back," Kern said. "I know I have a great defense behind me."
Olathe South (No. 6 seed, 20-5) took a 1-0 lead in the first inning, but fell behind after Maize plated three runs in the second. The Eagles (22-3) scored five runs in the sixth inning and capitalized on five Falcons errors.
"It's hard to explain because this isn't us. We're not a five-error team," O-South coach Michael Allen said. "When the defense started to unravel, it was so new to us."
Olathe South defeated Shawnee Mission North, 4-3 in nine innings, earlier Saturday in the state semis.
In the consolation game for third place, SM North edged Washburn Rural, 1-0.
Copyright 2018 The Lawrence Journal-World. All rights reserved. This material may not be published, broadcast, rewritten or redistributed. We strive to uphold our values for every story published.