Lawrence-Douglas County Fire Medical crews have a two-alarm fire under control in the 900 block of Mississippi Street.
Photo Gallery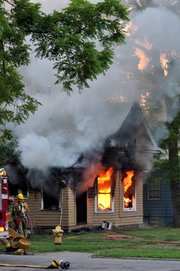 Fire at 947 Mississippi
Firefighters responded to a fire at 947 Mississippi around 8:15 p.m. Friday, May 28, 2010.
The initial call came in around 8:15 p.m. alerting crews to a structure fire at 947 Miss. A second alarm came minutes later.
Doug Green, division chief for Lawrence-Douglas County Fire Medical, said the fire started on the first floor of the building, which was divided into three separate apartments. No one was home during the fire. He said the front and upstairs apartment were damaged, but the back one sustained little damage.
Green said police rescued a dog from the building that was later taken to an area vet.
Police blocked off the intersection of 11th and Mississippi to deal with the blaze.
Nearby resident Logan Brown said he was studying when his roommate started yelling at him that there was a fire.
"I could feel the heat right as I came out," Brown said. He estimates flames got 15 feet high off the roof and 3 feet wide out of windows.
Neighbor Jame Molberg said she heard a siren so she peeked out her window.
"That was the scariest thing I've ever seen," she said. "There was huge flames."
Nick Rich, who lives directly across the street, said the reaction of crews was quick.
"(The fire department) got it under control really fast," Rich said.
Check back to LJWorld.com for updates.
Copyright 2017 The Lawrence Journal-World. All rights reserved. This material may not be published, broadcast, rewritten or redistributed. We strive to uphold our values for every story published.