Wichita — For a few minutes Friday morning, the surest thing at the Class 6A state track and field meet didn't look so sure.
Drue Davis entered the weekend as the unquestioned favorite in the girls pole vault. The defending state champion in the event, the Free State senior was coming off a regional meet in which she had cleared 12 feet, 8 inches — the all-time state record and the 15th-best jump in the nation this year, according to dyestat.com, to win by a staggering margin of nearly four feet.
But Friday she stood on the runway at Cessna Stadium nerve-addled, having failed to clear the rather pedestrian height of 11 feet twice in a row, one botched jump away from a disastrous conclusion to what, up to that point, had been a superb prep career.
"I think that was the first time we saw her feel the pressure of being a defending state champion," Free State coach Steve Heffernan said.
Of course, this being Drue Davis, there never really was much reason for concern.
She promptly proceeded to clear her final attempt at 11 feet, then breezed through her next few vaults to finish with a top jump of 12-6, winning the event by six inches and shattering the previous state-meet record of 12-1 set by Shawnee Mission South's Libby Harmon in 2003.
Photo Gallery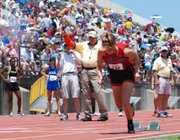 6A State Track Meet
6A state track meet
It marked a fitting conclusion to a relieving day for Davis, who said following her victory that the expectations she faced on the eve of her final prep meet had taken a toll.
Last year, for instance, when she cleared 11-6 to earn her first state title in the event, she had done so as a relative unknown, a junior in her first full season in the event.
This time around, she entered the weekend as one of the state meet's most high-profile athletes, warranting a slew of glances and whispers from opponents and coaches during warm-ups.
"I definitely had a target on my back," said Davis, who now has four individual state titles (two in track, two in gymnastics). "There were the girls that were like, 'I want to beat Drue Davis,' and there was that pressure that I wasn't used to last year because I wasnt the top vaulter coming in."
Davis' performance highlighted what was an encouraging first day for both city teams.
Lawrence High's Roy Wedge, the defending Class 6A state cross country champion, overcame an injury-hampered regular season to finish second in the boys 3,200-meter run in 9:29.76.
Running considerably better than he did at last week's regional meet, when he was passed in the final 200 meters in both the 1,600 and 3,200, Wedge held his ground Friday in shedding eight seconds from his previous best in the event.
"It was just nice to be running down the home stretch and not see someone breezing past me," said Wedge, who also will compete in today's 1,600 and 4x800 relay finals. "That was a nice change."
Free State sophomore Kain Anderson was fourth in the 3,200 in 9:41.68, while senior Keene Niemack finished second and fifth, respectively, in the 400 and 200 prelims, also helping the Firebirds' 4x400 relay team to an eighth-place finish and berth in today's finals.
The day's biggest surprise came from Lawrence High's Austin Flory, who, despite entering the meet seeded 13th in the triple jump, finished seventh at 43 feet.
"You're always worried about kids competing at the state meet for the first time," LHS coach Jack Hood said. "You just hope they do OK, and he did great."
With her pole vault title successfully defended, Davis now can turn her attention to today's events: the 200 finals and 100 prelims.
"Speaking from experience, it's a relief to repeat as state champion," Heffernan said. "For her, when you set an all-time state record, it's like, 'Why wouldn't you be able to repeat?' But it comes down to getting it done come meet time, which Drue did today."
Copyright 2018 The Lawrence Journal-World. All rights reserved. This material may not be published, broadcast, rewritten or redistributed. We strive to uphold our values for every story published.