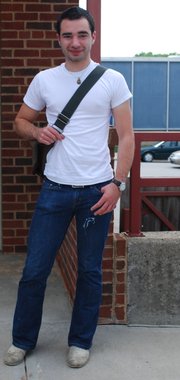 Justin Wilson
Age: 23.
Sign: Gemini.
Hometown: Wichita.
Time in Lawrence: Two years, non-consecutively.
Occupation: KU student and barista.
What were you doing when scouted? On my way to get coffee downtown.
How would you describe your style? Utilitarian - I wear basic pieces with subtle accents.
What are your favorite fashion trends? I like gladiator sandals and dresses on women; for both men and women, I like natural clothing and organic fabrics.
What are your least favorite fashion trends? Anything too flashy - sequins, synthetic fabrics, and people that look like walking mannequins.
What would you like to see more of in Lawrence? More critical-thinking individuals and more bike lanes.
What would you like to see less of in Lawrence? iPods and cell phones in inappropriate circumstances - other than that, I like this place quite a lot.
Do you have any fashion influences? Musician Derek Webb. I read an interview that said he only wore white T-shirts. I like that simplistic mindset - purposeful dressing.
People say I look like: James Mercer, the lead singer of The Shins. I don't think I do though - he's balding and skinnier and taller.
Tell us a secret:  Sometimes I do things just to have known what it is like to have done them.
Shirt: Hanes, Target, October 2009, $2.
Ceramic necklace: Personally designed/handmade, 2006.
Bag: Gap, March 2010, gift.
Copyright 2018 The Lawrence Journal-World. All rights reserved. This material may not be published, broadcast, rewritten or redistributed. We strive to uphold our values for every story published.