Photo Gallery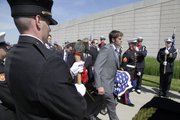 Funeral of Shawnee firefighter John Glaser
Leawood — Lawrence emergency service workers joined thousands of other emergency service personnel Thursday in paying tribute to a fallen firefighter.

Eight members of the Lawrence Police Department's Honor Guard, as well as several members of the Douglas County Sheriff's Office and about 30 firefighters with Lawrence-Douglas County Fire Medical attended funeral services in Leawood for Shawnee firefigther John Glaser, who died in the line of duty Saturday.
"It really hits close to home when you have a member of emergency services die in the line of duty," Lawrence police Sgt. Michael Monroe said. "Particularly in this case, because he was trying to save a life, and we felt it was very important to go up there and pay our respects to somebody like that."
A Lawrence medic unit and several Lawrence police patrol cars joined in the procession Thursday morning that stretched longer than the eye could see.
"It's support for the department that lost him," Fire Medical Division Chief Rich Barr said. "You know when the folks from Shawnee looked up and saw all of the firefighters, it was a good feeling."

Monroe said from his vantage point near the rear of the procession that it was an impressive and somber sight.
"The whole length of the procession, there were people out with signs," Monroe said. "We went by a couple of schools and all the kids were out, holding their hands over their hearts, or saluting and holding signs. We hope we never have to have anything like that here in Lawrence."

Barr said several Lawrence firefighters knew Glaser, who was a Kansas University graduate.

"We all go to pay our respects, but even though we're in separate departments, we all understand everybody's job," Barr said. "We understand sacrifices and it affects all of us."

Barr said Lawrence firefighters have been talking about the tragedy nonstop since Saturday. Monroe said this type of incident can't help but make everyone in the emergency service field think about their jobs.

"We all understand the risks that are involved, being in our line of work," Monroe said, "so we really empathize with them when we have things like this happen."

Copyright 2018 The Lawrence Journal-World. All rights reserved. This material may not be published, broadcast, rewritten or redistributed. We strive to uphold our values for every story published.