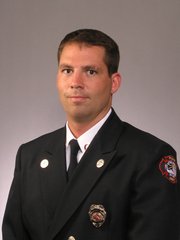 The Shawnee Fire Department late Wednesday released this statement from the family of John Glaser, the Shawnee firefighter who died in a fire Saturday:
I, along with my kids, my family and John's family continue to struggle with our devastating loss. John died doing something he loved. Knowing that, as well as the outpouring of support from the community, has been a tremendous help to us as we deal with his passing.
We cannot begin to express the tremendous gratitude we have for everyone that has been there for us. I would like to thank the following people and organizations during this difficult time:
• The Olathe Fire Department who were the first to arrive at my house and provide assistance and comfort the night of the fire, as well as their continued contact.
• The Olathe Police who have provided 24-hour vigil outside my home.
• All Johnson Country Police, Fire, & EMS Services for their support.
• The Surviving Spouse and Family Endowment Fund for their amazing generosity.
• The many local Kansas City area businesses for their donations, including funeral services, lodging, vehicles, and food.
• And a special thanks to the Shawnee Fire Department who have truly defined the meaning of brotherhood. I cannot put into words my gratitude for them. They have been by my side with a 24-hour a day presence providing encouragement and support. They have handled countless details and have been the liaison with the Amos Funeral Home, the Church of the Resurrection, the media and many others. I will be forever grateful to them.
• Finally, thanks to my family, friends, and all people across the country who have provided support through their many contributions, their love, and their prayers.
Many people have asked what they can do to honor John's memory. For those interested, a memorial fund has been established in John's name at any Bank of America across the United States.
Thanks again to everyone for the unbelievable support you have provided. We will not forget you as we continue to work through this difficult time
God bless,
Amber, Brecken, & Emma
Copyright 2018 The Lawrence Journal-World. All rights reserved. This material may not be published, broadcast, rewritten or redistributed. We strive to uphold our values for every story published.