Kansas University's baseball team enters the postseason on a sour note.
Photo Gallery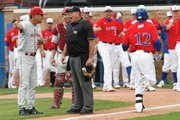 KU baseball vs. Oklahoma
Photos from the KU baseball game against Oklahoma on May 23, 2010. The Jayhawks were swept in the three game series.
"We don't have the same swagger we had five weeks ago, and you can feel it," KU coach Ritch Price said Sunday after the Jayhawks squandered a significant lead for the third time in three days against Oklahoma — this time in a 9-6 Senior Day loss at Hoglund Ballpark.
OU catcher Tyler Ogle, who bashed a three-run double in the ninth inning of Saturday's 8-7 Sooner victory, slammed a three-run homer in the ninth Sunday to bust a 6-6 tie in the regular-season finale for both teams.
"There's a point to where it just beats you up. I think it's beat us up a little bit as far as the energy level and enthusiasm in our dugout," Price said of crushing blows late in games by the opposition.
"It's not anybody being down or anything, but I think when you get left on the field five, six times, it's hard to fight through that on a week-by-week basis."
Related document

KU vs. Oklahoma box score ( .PDF )
The good or bad news depending on one's point of view is that KU gets another shot at Oklahoma on Wednesday. The Jayhawks (31-24-1, 11-15-1), who finished seventh in the conference standings, will meet the second place Sooners (42-14, 15-10) in a first-round Big 12 tournament game at 7:30 p.m. in Oklahoma City.
"Obviously, we'd rather play somebody else rather than play somebody four consecutive days, but the great thing about my guys is they love to play. It'll all come back to Walz," Price said of No. 1 starter T.J. Walz. He allowed just one run through five innings, then was raked for four in the sixth in Friday's 14-4 defeat.
"If he pitches well and gives us a chance, there's no reason we can't beat them. It shows how close we are. They are ranked No. 14 in the country, and scratch out two victories here (that) we had an opportunity to win."
An omen of bad things to come came in the bottom of the fourth inning Sunday.
KU's Brandon Macias skied a three-run home run the cleared the friendly side of the foul pole in left. However, Macias passed James Stanfield on the basepaths between first and second. It was ruled a two-run single as Macias was called out for passing the runner. KU at that point held a 4-2 lead instead of 5-2.
"Stanfield went back to tag thinking he (left fielder) might catch it when he saw the guy running in the corner. Macias had his head down and ran past him. Luckily there weren't two outs, or none of the runs would have counted," Price said.
"It's the first time I've ever seen that. I've seen it in the big leagues on 'Baseball Tonight' every once in a while. It happens once a year (in pros). In my 32 years in the game, I've never seen it happen to one of my teams."
Macias, who led off with a single, had a big base-running blunder in the eighth with the game tied at 6. Robby Price bunted and reached first when the pitcher's throw scooted a few feet past first baseman Cameron Seitzer, who picked up the ball and easily gunned down Macias trying for third. An ensuing double play ended the frame.
"That's a boneheaded play. I mean, that's one of the worst base-running plays of the season for us," Price said. "I'm not calling him (Macias) out. That's just a ridiculous play on his part. He knows it. As soon as he did it, he knows he made one of worst base-running plays of the year. He ran us right out of the inning, especially when you've got an opportunity with (Brian) Heere to put the ball on the ground and move guys into second and third (with one out). It's about as careless as you can be."
Seniors Price and Brett Lisher had two hits in their final home game, while Macias, Jimmy Waters and Chris Manship also had two hits. Freshman starter Tanner Poppe allowed three runs off four hits with two strikeouts over the first six innings.
The Jayhawks honored the six-member senior class (Lisher, Price, Travis Blankenship, Brett Bollman, Thomas Marcin and Cameron Selik) with a short ceremony before the game.
"It's been a dream come true. I want to thank coach Price for giving me the opportunity," Lawrence native Lisher said. "All the guys on the team ... I've made such close friends with all of them. We have a close relationship. It's not over yet. I get to play with my boys a little bit longer and see how long we can make it last."
KU is guaranteed at least three games this week at Bricktown Ballpark — against OU on Wednesday, Kansas State at 3 p.m. Friday and Baylor at 7:30 p.m. Saturday. The two pool winners will meet at 1 p.m. Sunday.
If two teams are tied, head-to-head competition will be used to break the tie. In case more than two teams are tied, the highest-seeded team among the tied teams advances to the championship.
"You've got to let this go. The minute it's over, it's over," Lisher said of the lost weekend versus the Sooners. "You've got to get ready for something bigger and better, and next week is real big for us. We have to come out and compete every pitch, every inning. I think we can do it — if we just flush this one and get ready for the week."
Copyright 2018 The Lawrence Journal-World. All rights reserved. This material may not be published, broadcast, rewritten or redistributed. We strive to uphold our values for every story published.