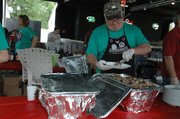 Bonner Springs — Though Pellet Envy was disqualified Friday from the Oklahoma Joe's World Brisket Open for using the wrong presentation box, the husband and wife team still managed to grab third place overall in the Kansas City BBQ Store Invitational.
"For him to get a disqualification is pretty shocking," said event coordinator Paul Satterfield of Pellet Envy member Rod Gray, whom Satterfield described as the "No. 1-ranked barbecue pitmaster."
Pellet Envy, from Kansas City, was one of 204 teams from across the country going grill-to-grill Friday and today during the Great American Barbecue Festival at Capitol Federal Park at Sandstone in Bonner Springs.
In addition to the invitational and brisket open judging, Friday's lineup included a Kidz Que, where youths were given the chance to compete with the help of their parents; a Williams Wings judging; and a people's choice sampling tent, where festival participants sampled 160 different kinds of barbecue sauces and cast a vote for their favorite.
Sauces in the people's choice tent could also be purchased, with all proceeds going to charity.
"It's fun, it's a lot of fun," said Claudia Grehl, from Harmony, Minn., while sampling some sauce on a bed of beef brisket. Grehl said she and her husband, Jerry, had heard about the event after reading about it in a magazine. "We brought the camper and here we are."
The barbecue festival brought many teams who have competed in the festival before, including returning team Burnt Finger BBQ, from Kansas City, renowned for its pork-infused creation the Bacon Explosion. The three-member team competed in the brisket open and will compete in the open contest today. Though member Jason Day suspected his team's brisket wouldn't land Burnt Finger a top 10 placement in the brisket open on Friday, he said the competition was all about doing the best you can.
"We liked our brisket, we're happy with it," Day said prior to Friday evening's awards ceremony. "That's all you can do."
Team members from KC Jakes, De Soto, said Friday they were confident about what their standings would be in today's open competition. The team has won several awards over the years competing in the Great American Barbecue Festival, including a grand champion placement for side dishes two years ago.
"We've done really well out here," said member Jack Dunlab, noting that he expected himself and his team to pull an all-nighter for today's competition.
During the Kidz Que, possible future adult members of barbecue teams seasoned and grilled pork chops and steaks on mini-grills.
Competitor Kaylin Groneman, 9, might describe herself as a barbecue expert, as she has been taking part in barbecue competitions since she was 5 and already has two first-place wins under her belt.
"All of it," Groneman said during the competition of what she liked about barbecue. Prior to placing her pork chop on the grill, Groneman said if she didn't win first place, she at least wanted to "beat my sister," who was also competing.
Competitions today will include the open, where contestants will cook meats ranging from beef to pork butt, side dish, dessert and a rib eating competition. The festival also includes food vendors, free samples, a carnival for youths and cooking demonstrations. The people's choice sampling tent will also be open.
Today's festival hours are from 10 a.m. to 5 p.m. and admission is $10. For more information, visit thinkbbq.com.
Copyright 2018 The Lawrence Journal-World. All rights reserved. This material may not be published, broadcast, rewritten or redistributed. We strive to uphold our values for every story published.