Cleveland — They've climbed from the AL Central basement and never want to go back.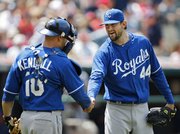 Down and out most of this season — and so many more before it — the Kansas City Royals are suddenly rising.
Luke Hochevar pitched his third career complete game, Alberto Callaspo hit a three-run homer and the Royals won for the sixth time in eight games, beating the short-handed and sliding Indians, 9-3, on Thursday to move out of last place in the AL Central.
"That's nice," said new manager Ned Yost, who improved to 5-2 since taking over for the fired Trey Hillman. "That's good. My focus is playing good every single day. That stuff takes care of itself. Our goal is to play good fundamental baseball. We've done that this week, without a doubt."
The Royals completed a two-game sweep of the Indians thanks to a solid performance from Hochevar (4-2), who gave up four hits and ended a three-game losing streak against Cleveland.
The right-hander had little trouble with the light-hitting Indians, who were without the top two batters in their lineup — Asdrubal Cabrera and Grady Sizemore, both on the disabled list with injuries.
Hochevar gave up two first-inning singles and then retired 15 of 16 before Shin-Soo Choo's double in the sixth.
"After the first, we hit a groove," Hochevar said. "Once you start rolling, you kind of go with it. As the game went on, I felt like my command got a lot better."
Callaspo connected for his seventh homer in the third off Mitch Talbot (5-3), Jose Guillen later added his ninth homer and the Royals leap-frogged the Indians in the standings.
Jhonny Peralta hit a two-run homer for Cleveland, which dropped its fourth straight.
Hochevar's outing didn't begin smoothly. He trailed 1-0 before recording his second out, but settled down and coasted to his fourth win — all on the road — this season. He walked two, struck out seven and threw 107 pitches.
"Hoch got into a little bit of trouble in the first and limited the damage," Yost said. "He just took it from there. He was on his game. Everything he had was going for him. He did a nice job keeping the hitters off balance."
Callaspo's towering shot to right landed in Kansas City's bullpen and staked Hochevcar to a 6-1 lead over Talbot, who has been one of the few bright spots for Cleveland this season.
Following a leadoff single by David DeJesus and Billy Butler's double, Guillen snapped an 0 for 17 slump against Cleveland pitching this season with a broken-bat RBI single to make it 3-1. The switch-hitting Callaspo followed by pulling a 2-0 pitch from Talbot for his seventh homer.
Copyright 2018 The Associated Press. All rights reserved. This material may not be published, broadcast, rewritten or redistributed. We strive to uphold our values for every story published.