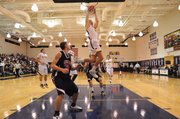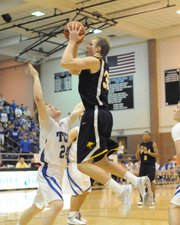 Plano, Texas — Zach Peters speaks proudly of the night he witnessed one of the most epic moments in Kansas University men's basketball history.
Peters, a high school sophomore who orally committed last month to play for the Jayhawks in 2012, remembers the night in San Antonio like it was yesterday.
The date: April 7, 2008, when KU rallied to beat Memphis, 75-68 in overtime, for the NCAA title.
Peters, 15 at the time, was sitting a few rows up in the Alamodome crowd when Mario Chalmers drilled the game-tying three-pointer with 2.1 seconds left in regulation. Peters was positioned perfectly in the stands for a stellar view of Mario's Miracle.
"I'm in the background of the picture," Peters said. "I'm behind the backboard. You've been to the new facilities, right? The big, 100-foot mural (in the northwest corner of Allen Fieldhouse) of him shooting it? That huge mural, you can see me and my family perfectly. Look at the backboard. I'm wearing a blue jacket and a blue shirt."
Thinking back to that atmosphere — "Everybody was jumping up and down; people were making out behind me; KU fans were going crazy," Peters says — reinforces to Peters that he made the right decision on where to play college basketball.
Kansas, he says, was the perfect choice.
Blessed with size
It's May 13, and Peters steps into an office at his high school, Prestonwood Christian Academy in Plano, Texas, wearing a white polo shirt, khaki pants and brown shoes.
Standing 6-foot-9, Peters has to duck as he enters the office. That's pretty standard. As he makes his way to sit in a chair typically suited for high school students, it becomes clear Peters has been considerably taller than his classmates for quite some time.
His parents, Tim and Christy Peters, had a chart at their house when Zach was younger that kept track of his height. Some sample readings from the chart:
Kindergarten: 5 feet tall
Fourth grade: 5-8
Seventh grade: 6-3
Eighth grade: 6-8 ("Eighth grade was the crazy one," Zach says)
Imagine being able to dunk in the seventh grade. That was the case with Peters.
Height runs in the family. Tim, a former basketball player at Eastern Illinois, is 6-3. Christy, a former cheerleader at Eastern Illinois, is 5-11. His older brother Garrett, 22, is 6-5, while his younger brother, Evan, 13, is already 6-0.
Currently, Zach checks in at 6-9 and 235 pounds as a 17-year-old. Zach is one year older than most sophomores because he repeated the eighth grade after a Jet Ski mishap during a family vacation. Zach's parents decided to home-school him for a year.
Does Zach see himself growing any more before he arrives in Lawrence in two years?
"I just feel like I've gotten broader," Peters said. "My shirts are tighter (laughs). I don't know. But 7 feet is not in the cards. I don't really want to be 7 feet."
Early national recognition
Peters showed an interest in playing basketball at a young age. Kindergarten, actually.
It's just that back then, he was a work in progress.
"I was terrible. I was afraid of the ball. I'm not even kidding," Peters said, laughing. "You would have never thought I was going to be good at basketball until around sixth or seventh grade when I really started getting into it."
Toward the end of elementary school, Peters was playing basketball nearly every day. Who could blame him? His dad installed an outdoor full court at the Peters residence. Not a bad deal.
"He's obsessed with basketball," Zach said of his dad, Tim. "That's all I did, was play basketball."
Peters received his first college offer in the form of a letter in the mail in the sixth grade.
"It was Liberty College," Peters said. "I scored, like, 45 points in a game. They saw me play."
Before Peters even arrived in high school, he was receiving national recognition. Hoop Scoop Inc., a Louisville-based recruiting service, ranked Peters the No. 1 eighth-grader in the country in 2008.
The first college campus Peters checked out was Kansas. He was in the seventh grade. Peters took a trip to Allen Fieldhouse on Jan. 27, 2007, when the Jayhawks routed Colorado, 97-74.
"That was my first real college basketball game," Peters recalled. "It was insane. It's unlike any other place. It felt like you were in a different time period, first of all. It was really unique."
Peters wasn't sure he'd pick Kansas after the 2007 visit, though. He wanted to get a feel for other campuses.
Taking off in high school
When Zach entered high school, he was well prepared for the varsity game. He had trained with former Oklahoma University standout Jeff Webster since fourth grade. Webster also was Peters' AAU coach until last year.
Peters grew up around the high school game. As a fifth-grader, he watched his brother Garrett become the first freshman in recent memory to play varsity basketball at Plano Senior High.
Garrett was a likely Div. I prospect until a devastating leg injury ended his career during a spring game in 2004. After Garrett went up for a dunk, he came down and landed on a player's foot. A separate player then landed on Garrett, who suffered a broken tibia bone in his leg. His Div. I dreams ended.
"My friend and I were playing outside at the time," Peters recalled. "We saw ambulances driving up, and I went in there, and my brother was laying on the ground screaming. His leg, they said it was like a shotgun went off when it broke. That's how loud it was."
After Garrett's injury, Zach said his family adopted the mind-set of valuing life to its fullest every day.
Zach's certainly made the most of his high school career so far.
In Peters' first two seasons, Prestonwood Christian Academy made an appearance in the Texas Association of Private and Parochial Schools Class 5A state championship game. This past winter, the Lions won their first-ever state basketball title. Peters averaged 15.3 points and nine boards last season as a sophomore.
"It was great for all of us and great for the team," sixth-year Prestonwood coach Brad Freeman said. "Zach's really developed into a verbal leader. When other kids weren't playing strong defense, he would step up and let them know."
Peters is currently ranked No. 4 in Texas by Rivals.com's Class of 2012 prospect list.
Freeman's Lions figure to contend for the state title for the next few years as well. One of Peters' teammates, Julius Randle, was recently selected to MaxPreps' Boys Basketball Freshmen All-America Team. Only five freshmen in the country earn that honor. Randle, a 6-8 guard, averaged 15 points and 9.8 boards in his first prep season.
"It's fun. Great players make great coaches," Freeman said with a laugh. "I'm excited to have them."
When Peters was asked if he hoped Randle would follow in his footsteps and commit to KU, he smiled and said "of course." But Peters realizes it's still early, and Randle will be considering plenty of schools.
Deciding on Kansas
It was March 11 when Peters realized Kansas was the school for him. He was on a vacation in Hawaii relaxing on the beach when he broke the news to his father, Tim.
"I kept seeing people wearing Kansas stuff," Peters recalled. "It was like, 'Wow, I really want to go there. I want to talk to those people. They go to Kansas.' And then they lost in the (NCAA) Tournament (to Northern Iowa), and I was so upset. I was like, 'Why am I so upset?' I'm usually not upset about things like this. My dad and I talked about it. I told him I wanted to go to Kansas."
Peters certainly had his options when choosing a college. Heck, he could have broken out a map and picked any school in any state. Kansas, North Carolina, Kentucky and Texas were his final four. Not a bad list, considering the first three are the winningest programs in the history of college basketball.
Of all the campuses, something stood out about Lawrence.
"All the buildings are like castles," Peters said. "All the people seemed great. I never ran into somebody who didn't have a smile on their face. Everyone seemed happy. It just seemed like a really great environment."
What really sealed the deal for Peters, though? KU coach Bill Self and assistant coach Danny Manning.
"When it comes to basketball, no one's better," Peters said of Self. "His basketball IQ is just the best. I think he's arguably the best college basketball coach ever."
Manning completed his sixth season on the Jayhawks' staff this spring. In that time, five post players (Wayne Simien, Julian Wright, Darrell Arthur, Darnell Jackson, Sasha Kaun) have made it to the NBA under his guidance. Cole Aldrich will grow Manning's list to six in June. Marcus Morris should make it seven a year or two from now.
"A guy with that much experience … I think he'll develop me into the best player I can be," Peters said of Manning. "If anybody can, it's going to be him."
Peters said, growing up, Arthur was one of his favorite KU post players.
"He played for the (AAU) team I play for right now. He played for Team Texas," Peters said of Arthur. "He was so versatile. He was a lot better in college than he was in high school (at Dallas South Oak Cliff High). They really developed him with Danny Manning. I like his mid-range game, and he's so explosive. It's fun to watch."
Hansbrough/Dirk hybrid?
Asked whom he molds his game after, Peters answered with two players.
"I like to say Tyler Hansbrough (Indiana Pacers) mixed with Dirk (Nowitzki, Dallas Mavericks)," Peters said. "Hansbrough, probably my rebounding. I like to play crazy sometimes and get physical and everything. Hansbrough was a beast. My post moves are a lot like his, I guess. Dirk, probably the shooting and creating the shot part of his game."
Because of his height, Peters plays primarily in the post in high school.
"It would be stupid for us not to have him inside," Freeman, his high school coach, said.
When he plays AAU ball for Team Texas, however, Peters plays in the post and along the perimeter. On Saturday, Peters and Team Texas will participate in the K.C. Prep Invitational at Okun Fieldhouse in Shawnee.
Peters said he's focusing on improving his perimeter game the most right now. He'll rotate around the three-point line at the Prestonwood gym until he makes 250 threes per day. He usually makes 250 out of 375 to 400. That takes him 30 minutes, maybe less.
Change of heart? Unlikely
Peters won't be able to sign his letter of intent to play at Kansas until November 2011, his senior year. If he wanted to, Peters could have a change of heart before then and pick a different school. According to Peters and his father, that's not going to happen.
"He's fully committed to Kansas," his father Tim said. "His goal is to enjoy the next two years of high school. He knew where he wanted to go and said, 'Let's commit, and let's enjoy the next two years.'"
Peters said he knew Kansas was the right choice because of the feeling he got in his stomach when he thought about Lawrence.
"It's like whenever you feel so sure about something and you feel like it's the right choice," Peters said. "I just decided, why wait? Why not just let people know right now if I feel so secure about it? Why keep coaches on their toes recruiting me? It was just a really comfortable decision to make."
Copyright 2018 The Lawrence Journal-World. All rights reserved. This material may not be published, broadcast, rewritten or redistributed. We strive to uphold our values for every story published.