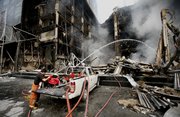 Bangkok — Buildings smoldered across central Bangkok early today and troops exchanged sporadic fire with pockets of holdouts a day after the army routed anti-government protesters in a push to end Thailand's deadliest political violence in nearly 20 years.
The government quelled most of the violence in the battered Thai capital after a major military operation that killed at least 7 people and left 88 wounded. But underlying political divisions that caused Thailand's crisis may have been exacerbated, and unrest spread to provinces in the north and northeast.
Prime Minister Abhisit Vejjajiva imposed a nighttime curfew in the capital and 23 other provinces, slated to last through Saturday night, and said his government would restore calm. Although leaders of the Red Shirt demonstrators surrendered, sporadic clashes between troops and remaining protesters continued this morning.
As night fell Wednesday, Bangkok's skyline was blotted by flashes of fire and black smoke from more than two dozen buildings set ablaze — including Thailand's stock exchange, main power company, banks, a movie theater and one of Asia's largest shopping malls.
This morning, troops in the central business district, occupied by protesters for weeks, exchanged occasional fire with holdouts as locals in the area looted a vast tent city the activists had cobbled together.
A special police unit entered a temple inside the former protest site where several thousand Red Shirt supporters, most of them women, old men and children, had sought shelter in recent days. Associated Press photographers said there was no resistance at the temple as police took away the group to a nearby police station.
Some cried and many were fearful that they would be incarcerated by the military and others remained defiant.
"We won. We won. The Red Shirts will rise again," shouted one woman.
Since the Red Shirts began their protest in mid-March, at least 75 people — mostly civilians — have been killed and nearly 1,800 wounded. Of those, 46 people have died in clashes that started May 13 after the army tried to blockade their 1-square-mile camp.
Six bodies were found at the temple, but it was unclear when those people died and whether they already were included in the official death toll as collected by the government's Erawan Emergency Center.
Elsewhere in the city, municipal workers removed debris and collected piles of garbage left in the streets that had been cordoned off by authorities for the past week.
While many of the rioters were believed to be members of the Red Shirts and their sympathizers, there was also an element of criminals and young hoodlums involved in the mayhem in the city of 10 million people. The protest and violence in one of Southeast Asia's most stable countries has damaged its economy and tourism industry.
With the top Red Shirt leaders in custody, it was unclear what the next move would be for the protesters who had demanded the ouster of the prime minister's government, the dissolution of parliament and new elections.
Copyright 2018 The Associated Press. All rights reserved. This material may not be published, broadcast, rewritten or redistributed. We strive to uphold our values for every story published.