Eudora — Finding creative solutions to difficult problems is the art of teaching.
Teachers in the Eudora school district have recently gotten the opportunity to share this lesson with their students.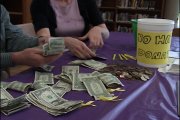 When it was learned that the Westboro Baptist Church of Topeka would be picketing the Eudora High School graduation Saturday, the district organized a "No Hate" campaign. The money donated in protest of the anti-homosexual group led by Fred Phelps will have a positive outcome.
"Eudora's perfect because word gets around fast," said Cheyenne Bueno, a Eudora High School junior. "It's a really great way to focus on everything positive and give funds to a positive cause instead of focusing our negative energy toward a negative cause."
Westboro Baptist Church, known best for protesting funerals of military veterans, also targets high school graduations across the country. Lawrence High School and Free State High School are also on the group's calendar for protests Sunday.
Eudora teachers began a Facebook page soliciting donations for Lawrence's Headquarters Counseling Center, 211 E. Eighth St., and the movement has taken off. In just two days, the campaign has raised more than $700.
"We chose Headquarters, which is a counseling facility out of Lawrence … that gives the chance for students and teenagers to get counseling in all aspects of life," said Amy Gingrich, who is an art teacher in Eudora.
The school's goal is to raise $1,000 by graduation.
Copyright 2018 The Lawrence Journal-World. All rights reserved. This material may not be published, broadcast, rewritten or redistributed. We strive to uphold our values for every story published.