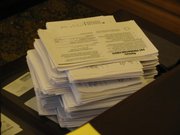 Topeka — About a dozen abortion rights advocates Wednesday delivered petitions to Gov. Mark Parkinson, urging him to veto a provision in the state budget that would take federal family planning funds away from Planned Parenthood.
"I don't want women's bodies to be political playgrounds," said Sarah Gillooly, lobbyist and public affairs manager for Planned Parenthood of Kansas and Mid-Missouri.
Those who oppose abortion placed in the budget an amendment that says the state must allocate $2.4 million in federal family planning funds to local health departments, hospitals and safety net clinics.

The provision would divert approximately $230,000 away from Planned Parenthood clinics in Hays and Wichita.
Parkinson vetoed a similar provision last year, and abortion rights groups are asking him to do it again.
But those who support the amendment include Kansans for Life. Jeanne Gawdun, spokeswoman for that group, said of Planned Parenthood, "It is a morally unacceptable organization to have our tax dollars going to."
Planned Parenthood has argued that under the law none of the federal funds can go toward abortions.
Gillooly said the federal funding pays for about 42,000 health care visits by women in Kansas each year, and that if Planned Parenthood doesn't receive those funds many low-income Kansas women will not get proper health care. She said the Planned Parenthood clinic in Hays could close if Parkinson doesn't veto the provision.
She said her group had approximately 1,000 signatures on petitions for Parkinson, who supports abortion rights. Parkinson's office declined to speculate on whether he would veto the provision.
Copyright 2018 The Lawrence Journal-World. All rights reserved. This material may not be published, broadcast, rewritten or redistributed. We strive to uphold our values for every story published.