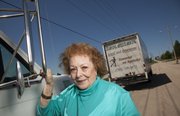 When Valerie Foos was a little girl, she loved to read and write. She dreamed of writing a novel and owning a business like her parents did one day.
She's achieved both dreams. She's published six romance novels and is now co-owner of Starving Artists Moving, a Lawrence moving business.
She was born in Kansas City and grew up in Olathe, where her parents operated several successful businesses, including a car dealership and a Velvet Freeze ice cream store.
"My father was an attorney and fairly entrepreneurial, but he and my mom were conservative in making wise business decisions," she says.
"They were hard workers and instilled in me the importance of treating people, especially customers, well and with personal attention to detail. At my father's knee I learned what good customer service and honesty in the marketplace meant."
When Foos graduated from Pittsburg State University with a bachelor's degree in English and education in 1964, she taught in the Shawnee Mission School District and fulfilled many graduate hours at the University of Missouri-Kansas City and Kansas University.
"I wanted to keep learning and get another degree, but marriage and taking care of my children put that on hold," she says.
While raising her children, she set about writing a novel.
"I didn't realize how hard writing for publication was," Foos says.
Her first submission remains unpublished, but she went on to publish six romance novels, including "Romancing Charley," "The Wilder Way" and "The Sweetheart Trust," under the name Hilary Cole.
"You sell your name, so I used a pseudonym in the hope I'd have a bigger novel in me one day and I could publish it under my own name," she says.
Foos divorced, remarried in 1991, and found herself back in the work force. She did substitute teaching, moved into retail management in order to get benefits and finally ended up as a leasing consultant for a Lawrence apartment complex. Foos and her husband, Craig, met and became friends with Tom Van Holt, who'd set up a small handyman business in 1993 to help support his writing. When the company evolved into Starving Artists Moving, Foos became its first office manager and worked evenings after finishing her day job.
"I loved the business model Tom used," she says. "He hired clean-cut workers with good customer service skills and the kind of people customers wouldn't be afraid to have in their homes. He gave great flexibility to student workers so they could do their job and support their education."
When Van Holt decided to sell, Foos decided to fulfill the second part of her childhood dream. She found a private investor, and she and Craig purchased the business two weeks before the recession officially hit in 2008.
"We hit the ground running, but we love what we're doing and enjoy working together," she says. "We have individual and shared roles, and that helps."
Foos hopes she has another book in her.
"I just need to find the time to sit down and write it," she says.
Copyright 2017 The Lawrence Journal-World. All rights reserved. This material may not be published, broadcast, rewritten or redistributed. We strive to uphold our values for every story published.