Photo Gallery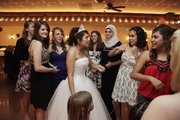 Celebrating a Quinceañera
On one of my travels to Cuba, I saw young girls in white gowns being paraded around their town in the back of a Jeep. I soon learned it was the ceremony called Quinceañera, marking the coming-of-age of a 15-year-old girl, complete with a church ceremony and a party.
Recently I observed another Quinceañera — this time, in Lawrence. It was a family experience, as 15-year-old Alia Eryn Zilliox had her Quinceañera at St. John the Evangelist Catholic Church.
The Lawrence teenager's friends — called the court of honor — along with her relatives and other friends were on the guest list for the traditional ceremony.
For Alia, the ceremony meant she was following a path her older female relatives already had traveled.
"I was in my cousin's," she said.
And, of course, her mother, Melinda Zilliox, had her own Quinceañera when she was 15.
"I think for the both of us, just the whole entire family, it was really important to all of us," Alia said. "I think people say, 'Oh you're a woman now.' It's important to have the ceremony to say, 'I really am.'
"I went through a process."
Alia's mother and other family members worked to plan the ceremony and celebration that followed.
The day of Alia's Quinceañera started early. There was much to do. And not much time. There was a 9 a.m. hair appointment to sweep her brown hair up. She quickly dressed in her white gown at the hair salon before heading to the church for the 11 a.m. ceremony.
Family and friends packed St. John's to witness the simple, yet elegant, tradition. Alia's court of honor — all of the girls were dressed in pink — led the way. And then it was Alia's turn. As she walked down the aisle in her white gown, everyone smiled.
For Alia, the 45-minute ceremony was nerve-racking.
"I was thinking about my hair and people staring at me from behind, and hoping my hair wouldn't fall down," she remembers.
The ceremony included Bible verses and singing. She received six gifts from her aunts and uncles: a Bible, a bouquet of flowers, a ring, a bracelet, a rosary and a tiara. Each of them was blessed by the Rev. John Schmeidler, and each holds meaning: closeness with family and with God, and the passage to womanhood.
Later that day, the celebration continued with a party at the Knights of Columbus hall. As the festivities started, Alia and her court of honor were introduced. Then Alia danced with her uncle, Joe Ramirez.
A cake, with candles marking Alia's age, was served, along with traditional Mexican dishes. The party continued well into the night with dancing to traditional music.
Now, Alia no longer is considered a child; she is a young woman.
"I do feel like it has changed me," Alia said. "Even though most people say, 'Oh it doesn't change you,' I think it has, as far as I need to take on more responsibility. I think it has."
Copyright 2018 The Lawrence Journal-World. All rights reserved. This material may not be published, broadcast, rewritten or redistributed. We strive to uphold our values for every story published.