Manhattan — For three innings Sunday, Kansas University freshman Tanner Poppe owned the mound, and the KU bats lit up the scoreboard.
Photo Gallery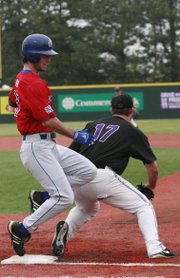 Kansas Baseball at Kansas State
Photos from the final game of the rivalry series on May 16, 2010.
A couple of singles and an errant throw in the fourth changed all that, though, and from then on it was nothing but doom and gloom for KU, which lost to K-State, 8-5, at Tointon Stadium.
The Jayhawks scored two runs in the first inning of the series finale. Brandon Macias smoked the game's first pitch through the hole between short and third, and two batters later center fielder Brian Heere hacked a high pitch deep over the wall in right.
In the second, the Jayhawks continued to rough up Kansas State starting pitcher Justin Lindsey. Casey Lytle ripped the first pitch of the inning out of the park to push the lead to 3-0, and James Stanfield and Macias added sharply-hit singles before the inning was over.
Through 31⁄2 innings, KU had outhit K-State 7-1, but only had three runs to show for it.
"I think we missed some opportunities early, especially as early as we knocked their starter out of the game," KU coach Ritch Price said. "We had our best guys up. Robby (Price is) up with two guys on base, Tony (Thompson is) up with two guys on base. Those are the guys who've been doing it for us all year long, and I thought the difference today was their back guys clutched up and our guys didn't get it done with runners in scoring position."
After getting the first two batters of the fourth to fly out, Poppe found trouble. Four straight singles, a wild pitch and a throwing error erased KU's lead and sent Poppe to the dugout. The hits were understandable, but the error, which came with two outs and Poppe falling down while throwing to first, was a killer.
"It was a ball hit right back at me that I thought I could field," Poppe said. "I kind of bobbled it and then just tried to make a play and overthrew it. I probably should've held onto it."
Added Price: "He should've held the ball. One of the things we preach to our guys is when you have no play, no throw."
During innings four through eight, KU managed just two hits and one run. That run came in the fifth, but only because of an error by KSU first baseman Kent Urban, who dropped a perfect strike from shortstop Carter Jurica, allowing a KU run instead of sending the 'Cats trotting off the field with an inning-ending double play.
That gave KU its lead back, at 4-3, but also seemed to energize the KSU offense. The Wildcats scored three in the sixth and two more in the eighth — off four different KU pitchers — and built an 8-4 lead heading into the ninth inning.
"You know you have to put up eight to win on Sunday," Price said. "And we had opportunities to do so and didn't."
What bothered the KU coach more was that the Jayhawks, who used five pitchers, actually helped the Wildcats score their runs.
"They got a three-spot, a three-spot and a two-spot," Price said. "And in every one of those innings, we walked someone or hit someone to set the table for them."
KU fell to 30-21-1 overall and 11-12-1 in the Big 12. A win would've pushed KU into a tie for fourth, just a half-game out of second. The loss sent KU into the sixth spot.
"We started off well and settled in and were kind of content about it, maybe," Heere said. "Obviously, we can't do that. We have to stay aggressive the whole game."
K-State improved to 34-16 and 13-10.
Copyright 2018 The Lawrence Journal-World. All rights reserved. This material may not be published, broadcast, rewritten or redistributed. We strive to uphold our values for every story published.