Photo Gallery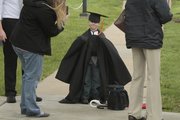 2010 KU Commencement
The rain stayed away on Sunday and allowed Kansas University's Class of 2010 to celebrate graduation without a hitch.
Graduates took part in the traditional walk down Campanile Hill into Memorial Stadium, accessorized with decorated caps, Mylar balloons and a variety of other paraphernalia — one graduate was accompanied by a large potted plant.
The mood was bittersweet for most of them, as they bade farewell to the safe confines of campus and prepared to enter the next phase of their lives, where they'll confront a difficult job market.
Stephanie Koenig, a human biology major who is preparing to be commissioned as an officer in the U.S. Air Force, was carrying a foam swimming pool noodle so her family could easily spot her during the crowded walk down the hill.
It was decorated with her name, an Air Force emblem and a wedding ring symbolizing her marriage a few months ago.
"I'm ready to move on," Koenig said. "But I'll always be a Jayhawk at heart. And I plan on keeping my pool noodle with me wherever I go."
Though some graduates reported they were immediately headed off to new jobs, many of the graduates said they were still looking for that big break.
"Basically, it's a big blur after this," said Harold Reed, an Olathe graduate in economics. "Hopefully I'll be able to find a career this summer. If not, I'll be back in grad school."
KU's 138th commencement ceremony gave Chancellor Bernadette Gray-Little her first chance to address a graduating class, a traditional role for KU's leader.
She took the opportunity to encourage the graduates to remain devoted to service, and to be a friend to others as they travel through their lives.
"The papers are finished. The tests are done," Gray-Little said. "But that doesn't mean your journey as scholars is over."
Gray-Little said she understood what it was like preparing to enter one of life's new phases, because, last August, she left North Carolina, a place she had lived for most of her life, to come to Kansas and become the school's chancellor. She said she hoped that the graduates were able to find their passions in life at KU.
"If you are doing something that you love, all the rest of life's questions will have a way of answering themselves," she said.
She suggested that graduates remember to always wear one piece of Jayhawk gear when they travel, as they will invariably be greeted by a fellow alum.
"I've learned that this is a remarkable family," Gray-Little said.
She continued with the precedent that former KU Chancellor Robert Hemenway set last year, and asked graduates to take "family pictures" of themselves, and e-mail them to KU for inclusion on the school's Facebook page.
Perhaps the most raucous celebration during the ceremony came from graduates from KU's School of Medicine, who uncorked bottles of Champagne as their executive dean presented them to Gray-Little for the conferring of their degrees.
Mike Hagan, who graduated with his M.D. degree Sunday, stood on the football field after the ceremony, drenched in Champagne.
It'll be off to St. Louis now for Hagan, as he prepares to begin his residency. He said he enjoyed himself Sunday, but he didn't realize his fellow medical school graduates would bring quite as much Champagne as they did.
"It was literally like being in a shower," he said. "It was a perfect match for the mood."
Copyright 2018 The Lawrence Journal-World. All rights reserved. This material may not be published, broadcast, rewritten or redistributed. We strive to uphold our values for every story published.