Last spring, during his first full-time season of track and field, Keene Niemack managed to finish third overall in the boys 400-meter dash at the Class 6A state meet.
Photo Gallery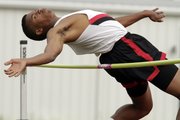 Sunflower League Track and Field Championships
Photos from the Sunflower League Track and Field Championships at Free State High School on May 14, 2010.
This year, with a year of true training under his belt and a newfound motivation to master the sport's nuances, the postseason possibilities for the Free State senior seem limitless.
"He's definitely become a track guy who enjoys the sport," Firebirds coach Steve Heffernan said following Friday's 12-team Sunflower League meet at Free State High. "Last year I think he came in and said, 'Well, is this something I really want to do?' This year, he's come in and done really well because it's something he really wants to do."
That certainly appeared to be the case Friday.
Niemack paced the Firebirds to the city's highest finish, winning the boys 400-meter dash in 48.87, finishing second in the 200-meter dash (22.48) and helping the school's 4x400-meter relay team to a fourth-place showing in the day's final event, which propelled Free State from fifth place overall to fourth.
The Free State girls finished seventh overall, while the Lawrence High boys were eighth and the girls were 10th.
"The Sunflower League is one of the best overall leagues in the state," said Niemack, who'll be gunning for a Class 6A state title in the 400. "So to come out with a win is gonna get you pretty well set up for regionals and state."
Niemack highlighted what proved to be a fruitful evening for a large handful of city athletes.
Free State's Drue Davis, the defending Class 6A girls pole vaulting champion, won the event Friday with a vault of 11 feet, 6 inches, while versatile boys sophomore Kain Anderson did a little bit of everything, finishing second in the 800-meter run (1:59.11), third in the 3,200-meter run (9:41.38) and joining Niemack on the fourth-place 4x400 relay team.
Lawrence High started strong, meanwhile, finishing second in the boys 4x800-meter relay and fourth in the girls 4x800 — the first two track events — and was able to keep that momentum going for the most part.
Even with boys distance standout Roy Wedge limited by a lingering injury and standout hurdler Whitney Demby suffering an off day, the Lions were able to score points in a variety of areas.
Freshman Gavin Fischer was fourth in the boys 1,600-meter run with a time of 4:33.26 and Jonathan Gabler added a third-place showing in the 800-meter run, finishing in 2:01.87, while the girls 4x800-meter relay team, which is shooting for a state berth this season, dropped more than 16 seconds from its previous best time to finish in 9:54.05.
"We were all jumping up and down," said Shelby Clark, a member of the relay. "We were just really excited."
The biggest boost, though, came from sophomore thrower Blake Hocking, who finished first in the shot put with a throw of 53 feet, 2 inches and added a third-place finish in the discus with a toss of 144 feet, 1 inch.
"I've been in a little slump lately," Hocking said. "But this is a start out of the slump, I think."
Copyright 2013 The Lawrence Journal-World. All rights reserved. This material may not be published, broadcast, rewritten or redistributed. We strive to uphold our values for every story published.