People stay at Pinckney School.
That's why it was a difficult decision for a group of seven Pinckney teachers — with a combined 167 years teaching there — to retire from the Lawrence district when classes are dismissed later this month.
"We have taught together longer than we've lived with our parents at home, and we have been through thick and thin," said Janet Reeder, the Pinckney librarian for 30 years.
The teachers have grown into a close-knit family through years of working with students and colleagues, but also through sharing personal experiences, like the births of one another's children and the deaths of one another's parents.
"I've spent 33 years here, and I only lived 18 years at home with my parents," said first-grade teacher Carolyn Evers, who also did her student teaching at Pinckney. "And I've never lived in any house 33 years, so this feels like home more than any home really feels."
It was hard for the group of seven to imagine working without one another at Pinckney, 810 E. Sixth St., nestled in-between the Pinckney and Old West Lawrence neighborhoods.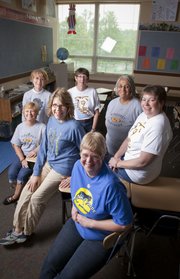 Across Lawrence more than 40 teachers will retire or leave the district for next school year. With the state budget crisis, in recent years the district has offered incentives for some longtime educators to head into retirement.
'Community school'
For the Pinckney group the decisions came as a chain reaction when first-grade teacher Janey Greene, after 15 years at the school and 21 years in the district, decided she would retire. Greene's first-grade cohort Evers didn't want to teach without her.
The same thing happened with fifth-grade teachers Becky Spradlin, who has spent her 35-year teaching career at Pinckney, and Nancy Gill, who's been there for 20 years.
The group also includes Reeder, kindergarten teacher Lynn Heffley, who has 22 years at Pinckney under her belt, and reading teacher Bitsey Patton, who has spent 12 years at Pinckney.
"People stay at Pinckney," Gill said Wednesday during a group interview.
"It's the family part," Heffley said.
"It's a true community school," Gill said. "It really is."
The teachers say the school has benefited from continuity. The longest-serving teacher has still worked for only two principals: the current one, Lesa Frantz, who came aboard in 1996, and Frantz's predecessor, Gary Freeman, who led the school since 1973.
Additionally, many families have stayed in the school's neighborhood, allowing some of the teachers to teach multiple generations.
Changing classroom
The teaching profession has also changed, they said, partly because of technology.
"I don't do anything today that I learned to do in college — nothing," said Reeder, the longtime librarian.
"Except for the people skills," Spradlin said.
Students have more distractions, like video games, but in some ways "kids are kids," Spradlin said.
Research-based practices and more calls for accountability in schools have created positive results for students, they said.
"It's so much harder to (be a teacher) than what it was 33 years ago, but we just have constant training on getting better," Evers said. "The thing that's exciting about being a teacher is that you are always learning things."
Frantz said the seven teachers are like the building blocks for the school.
"(Replacing) the foundation is replacing positions, but not people because they are irreplaceable," she said.
Teachers who would have lost positions in the district will move in to the Pinckney vacancies, Frantz said. The school will work on team-building over the summer to incorporate new staff members.
The seven retiring teachers are confident Pinckney will continue to be successful under Frantz's leadership, the current teachers and involvement from school families.
Other retired teachers still find time to help at the school, so it's likely the seven will not stray far from Pinckney and one another.
Several of them recited a motto Wednesday that Frantz often mentions: Once a Panther, always a Pinckney Panther.
"So all of us can come back," Spradlin said.
Follow LJWorld.com education news.
Copyright 2018 The Lawrence Journal-World. All rights reserved. This material may not be published, broadcast, rewritten or redistributed. We strive to uphold our values for every story published.