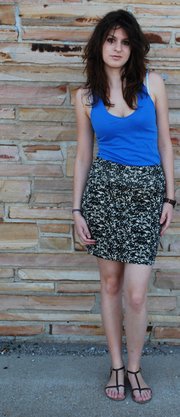 Carol Malakasis
Age: 22.
Sign: Aquarius.
Hometown: Preveza, Greece.
Time in Lawrence: 5 years off and on. I usually go home for Christmas and summer.
Occupation: French and Italian student at KU.
What were you doing when scouted? Walking to the Merc.
How would you describe your style? It is all over the place, definitely. I love to mix and match. Sometimes I'll wear jeans and a T-shirt, other times I like to dress up; however, I am very open-minded when it comes to fashion - I wear both retro and trendy pieces.
Favorite fashion trends: I like big jewelry, oversize cocktail rings, and black and white color combinations. Since I've moved to the States, I have a more colorful wardrobe, but I still think black and white looks the sharpest - it can be casual and elegant simultaneously.
Least favorite fashion trends: Because fashion is very personal, it is important to dress according to your body type. I want to see fewer women wearing unflattering outfits just because the shape or style is trendy right now.
What do you like most about the fashions in Lawrence? Lawrence has a great mix of people with diverse tastes. There are lots of families and international students who help to maintain a very open-minded atmosphere, and there are stores for most every shopping budget - from Urban Outfitters to Spectators.
What do you like least about the fashions in Lawrence? Nothing stands out that bothers me. Occasionally people aren't the best-dressed, but it is not strictly a Lawrence thing - it happens all over the world.
Who are your fashion influences? European fashion appeals to me. Black colors, darker hues and shades of white are versatile, sophisticated color combinations that can be worn during the day and night.
People say I look like: Penelope Cruz.
Tell us a secret: My favorite sandals are falling apart, so I used tape to re-attach the soles!
Shoes: France, March 2009, E85.
Skirt: Forever Twenty-one, May 2010, $7.
Shirt: Urban Outfitters, November 2009, $20.
Father's Wristwatch: August 2009.
Bracelets: Gap, January 2010, $12.
Copyright 2018 The Lawrence Journal-World. All rights reserved. This material may not be published, broadcast, rewritten or redistributed. We strive to uphold our values for every story published.