Past Event
When: Friday, May 14, 2010, 3 a.m. to noon
Where: Clinton State Park, Clinton Lake, Lawrence
Cost: $10 - $30
-->
-->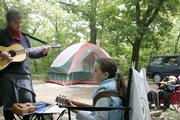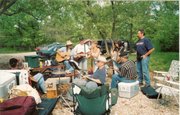 Even though it's been around for seven years, Stringband Rendezvous is virtually unknown when compared to the higher profiles of other regional music and camping festivals such as Wakarusa or Winfield. And they'd prefer to keep it that way.
"First of all, it's not a festival," clarifies Garry Bury, organizer and "host" of Stringband Rendezvous. "There are no vendors on the site. This is a private party. It's a lot lower-key and a lot more relaxed. It's a family event. The Wakarusa thing got to be pretty wild at times, from what I understand, but I encourage people to bring their families. ... It's a community effort. The Stringband Rendezvous is not a commercial venture. It's a gathering."
Starting Friday night and lasting till the early hours of Sunday morning, 15 bands will be playing Stringband Rendezvous, ranging from traditional bluegrass to Celtic music to gypsy swing. The acoustic Americana/bluegrass event was conceived almost a decade ago as a prelude to the massive Winfield Festival, the roots music mega-palooza that happens every September outside of Winfield.
"Most people can't wait until September to start this type of stuff, so we decided to do one in the early summer months. It's been a success," says Bury, himself a musician with cowboy balladeers 3 Trails West.
While it's technically a "private party" - Bury rents out the Bloomington West Campgrounds at Clinton Lake for the weekend - anyone is welcome as a guest so long as they pitch in.
"We expect everyone to contribute in some way to the weekend," Bury says. "Some people contribute their talent, other people contribute their time - they'll help me work the gate or manage the stage or something. Everybody donates something - if you don't donate your time, you donate your cash. Is it an oxymoron to say there's a 'mandatory donation'?"
Stringband Rendezvous consciously attempts to foster that tight-knit sense of community, especially among the musicians.
"From my standpoint, it's a gathering of old-time string bands," says Steve Mason, who will be performing at the Rendezvous with The Alferd Packer Memorial String Band. "It's an opportunity to see the other string bands and jam with the other people and meet people you didn't know. It's kind of a string band convention, but for people who are not string band musicians, it's a fine show in a nice, rural setting."
Of the nearly 160 people who attended last year, almost half of them camped out for the entire weekend, and many of those who camped out were the performers themselves. The same holds to be true this year.
"We're going to go ahead and camp," says fiddler Tricia Spencer, who will be making her second appearance at Stringband Rendezvous with the band Prairie Acre. "It's a much smaller version of Winfield and Wakarusa, and that's, of course, what makes it so appealing. You can go and just kind of relax. I think a lot of people there know each other, so it's fun to get together and play or listen. That's part of the fun for us, getting to jam until the wee hours of night."
Those impromptu, late-night jam sessions are as much a draw as the scheduled stage performances.
"Not a lot of sleeping gets done," Mason says. "We pick until early in the morning, sometimes until sunup. When you're in a circle jamming with five or six other fiddlers, time just kind of flies by. It's a little like speaking another language. Everybody has their own takes on the traditional tunes. You're playing harmonies and licks - it's kind of like getting on a freight train. I've never thought of it as a spectator sport at all, and I don't understand why people watch it, but people seem to enjoy watching it. It's a very esoteric sport."
Of course, being an outdoor event, those campfire sessions might be extinguished - or at least moved under a tarp - depending on the weather.
"We can count on something happening every year," Bury says. "I can't remember a weekend it hasn't rained or been cold or where we've had some sort of adverse weather conditions. But people keep coming out."
Grizzled veterans of the bluegrass campout circuit will attend rain or shine. They key is to come prepared.
"The top three priorities would probably be to make sure that you have some type of bug repellent, that you're prepared for both rain and heat," says Spencer. "And just be prepared to have a good time."
Copyright 2018 The Lawrence Journal-World. All rights reserved. This material may not be published, broadcast, rewritten or redistributed. We strive to uphold our values for every story published.