On the street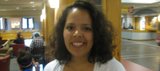 I think that would be a lot of fun to use, to travel between bars downtown.
The idea of a 16-passenger, pedal-powered vehicle in downtown Lawrence sounds OK to city commissioners, as long as it stays off Massachusetts Street.
Commissioners on Tuesday evening unanimously approved an ordinance allowing oversized pedicabs to operate in Lawrence, but added a provision prohibiting them on Massachusetts Street because the vehicles are expected to have a top speed of 5 miles per hour.
"I tried to drive that speed yesterday on Mass., and I was afraid things were going to be thrown at me," Mayor Mike Amyx said.
The ordinance also prohibits pedicabs from operating on state highways or any street with a speed limit greater than 30 miles per hour. The city also reserves the right to deny any route for an oversized pedicab based on traffic concerns.
Luke Stone, a Lawrence entrepreneur who hopes to start an oversized pedicab business by this fall, said he's fine with the restrictions. He believes New Hampshire and Vermont streets are the most likely routes, since those streets have more room to allow vehicles to pass.
Copyright 2018 The Lawrence Journal-World. All rights reserved. This material may not be published, broadcast, rewritten or redistributed. We strive to uphold our values for every story published.