A Douglas County judge sentenced a Lawrence man to more than 10 years in prison for sexually abusing three teenagers over a six-year period.

Judge Sally Pokorny ordered Terry S. Pennay, 48, to spend 128 months in prison. Upon his release, Pennay will be required to be supervised for life and must register as a sex offender.
Pennay entered a no-contest plea in March to one count of aggravated indecent liberties with a child and two counts of indecent liberties with a child.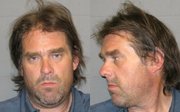 All of the victims were girls between the ages of 14 and 16.
One of the girls addressed the judge at Tuesday's sentencing hearing.
"A year ago, I spent the night with my best friend," the victim said. "It took just one night to flip my whole world around. Her father touched me during the night ... I was 14. I didn't know what to do."

Pennay's attorney, Courtney Henderson, said his client had never previously been convicted of a sex crime, but that he struggled with drug addiction.
"He was using meth frequently, and that clouded his mind," Henderson told the judge. "This is not the man he wants to be known as."

Police first began investigating the case when a mother of a 14-year-old girl brought her daughter to talk to officers after spending the night at Pennay's home in March 2009.

During their investigation, police discovered the two other victims. One girl was sexually abused in September 2004, and the other victim was molested repeatedly from April 2008 to the spring of 2009.

The judge ordered the three sentences to run consecutively.

The victim who spoke in court said she hoped that her coming forward would prevent Pennay from molesting more children.
"This whole process has opened my eyes so much," she said. "A lot of cruel things happen in the real world. I'm glad I stood up for myself and went to police. After today, it's all over."

Copyright 2018 The Lawrence Journal-World. All rights reserved. This material may not be published, broadcast, rewritten or redistributed. We strive to uphold our values for every story published.