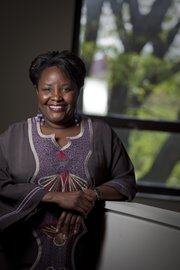 Former Nigerian children's television star Jessie Kwatamdia's system was badly shocked when she arrived in Manhattan, Kan., in 1985.
"The cold nearly killed me," she says, shivering at the memory.
She gradually adjusted, absorbed the cultural changes, decided to stay permanently, and says she's experienced growth at many levels. She's now one of the managers responsible for developing and extending programs at Douglas County's Senior Services Center.
Born in Zaria, Nigeria, Kwatamdia grew up in Borno State, where her father was head of the ministry of agriculture, and her mother dean at Ahmadu Vello University's college of education. Her parents made education a priority for their three children and set additional homework for them each evening.

"I always tried to finish my homework first to earn the treat of riding my bicycle to the farm to pick up fresh milk for the next day," Kwatamdia says.
She also enjoyed gardening with her father, going to the country club, strolling with her grandfather and listening to her grandmother's stories in the evening. Her love of reading, and her mother's push, led to her starring in the Nigerian TV show "Children's Hour," where she read stories and performed in plays. She was recognized everywhere she went and says she found this challenging because she's essentially a very private person.
When her father came to Kansas State University's horticulture department on an exchange program in 1985, her mom decided to take a sabbatical and pursue nutritional studies.
"My dad felt very strong about family staying close together, so I had no choice in the matter," Kwatamdia says.
"He enrolled me at K-State, and I decided to pursue a degree in horticulture."
While she worked as a DJ on the campus radio station, her professor Richard Mattson heard her and thought she had the voice and composure to work with older adults. He invited her to act as his assistant in a local nursing home where he was supervising interns from the horticulture department.
"I was terrified and didn't want to do it," she admits.
"I'd never even heard of a nursing home for the elderly. We didn't have them in Nigeria. I was surprised when I was immediately drawn to and fell in love with the residents."
She did her internship at the home, graduated with a bachelor's degree in horticulture therapy in 1989 and decided to work with seniors in a nonprofit setting for three years before proceeding to Texas Woman's University's doctoral program and work at university level.
Marriage, children and divorce intervened. She graduated with a master's in adult and continuing education in 1996, moved to Lawrence and started the Green Thumb (Therapy) Program at Community Living Opportunities. She volunteered to care for the Senior Center's plants and joined the staff in 2000.
Kwatamdia's helped grow the center's curriculum and would love to start a community horticultural therapy program.
She's pleased perception of senior centers is changing.
"People over 55 want to continue to grow, develop, learn and participate fully in social events," she says. "I'm thrilled to be part of this growth."
Copyright 2018 The Lawrence Journal-World. All rights reserved. This material may not be published, broadcast, rewritten or redistributed. We strive to uphold our values for every story published.