Casey Lytle, who'd just cracked a two-run, game-winning double in the bottom of the 10th inning, watched in amazement as his Kansas University teammates dog-piled Jimmy Waters, who crossed home plate with the decisive run in a 10-9 victory over Missouri on Sunday at Hoglund Ballpark.
"I wanted to come in and jump on top of the pile, but then they all started running after me. I had to take off toward center field," Lytle said.
"I was trying to get away from everyone. I got a few kidney shots, a few back shots in there, but it was worth it," added Lytle, who, after surviving a group tackling, was hit with a shaving-cream pie in the face by equipment manager Carlos Ramirez.
You better believe Lytle and the Jayhawks were ecstatic after claiming their first three-game sweep of Mizzou since 1994.
Photo Gallery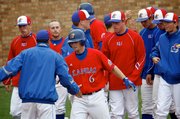 Kansas baseball vs. Missouri
Pictures from the Jayhawks vs. Tigers game May 9, 2010.
Where did the hit off left-handed submarining reliever Phil McCormick rank in Lytle's career?
"I'd have to say No. 1," Lytle, a junior from Phoenix, said.
The right-handed hitter raked the second offering from McCormick, who'd just entered the game, into the right-center-field gap.
Brian Heere (4-for-6, double, two runs scored) scored from second and Waters from first as KU put away a Tiger team that had scored two runs in the top of the 10th. KU had plated its first run of the inning on a hard-hit grounder by Waters that was booted by Missouri's first baseman, allowing Robby Price to score.
"Going against our rivals, sweeping 'em, they had a two-run lead going into the inning. We came back, fought back. It (his hit) got us the win right there," said Lytle, who went 3-for-5.
Coach Ritch Price relished a postgame celebration that took place after KU improved to 29-19-1 overall, 10-10-1 in the Big 12.
MU dropped to 24-22, 7-13.
"That's one of the special ones we've had at KU," Price said, asked where Sunday's victory ranked in his eight years as KU coach. "That's one of those things when it's over, you can't believe what you just saw. It's a great, great 'W' for us."
Robby Price, who opened the 10th with a walk, slugged two home runs and had four RBIs and three runs scored in a game in which KU led, 3-0, after one inning, but trailed, 6-3, after 41⁄2 frames, erasing that deficit on a three-run Price blast.
Price's solo home run in the sixth busted a 6-all tie.
"To do something special like that in the 10th inning ... I'm kind of speechless right now," Robby Price said after the first multi-homer day of his four-year career.."Everybody in the locker room is going nuts. It's fun to be a part of it.
"This is huge," he added, "especially where we're standing now (fifth in the Big 12). To beat those guys three times ... I'm pumped up. I think everyone else is. It's just a great day to be a Jayhawk."
KU will play host to Kansas State at 7 p.m. Friday at Hoglund Ballpark.
Copyright 2018 The Lawrence Journal-World. All rights reserved. This material may not be published, broadcast, rewritten or redistributed. We strive to uphold our values for every story published.