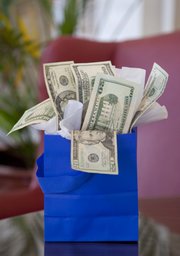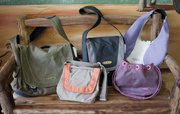 Graduation is an achievement to be celebrated with gifts befitting the occasion. And the most coveted presents are those that reward success while complementing the recipient's future.
Here are some gift ideas that meet both criteria and will put a gleam in your favorite grad's eye:
• The graduate who is taking off on a well-deserved summer vacation, headed to college or a new out-of-town job needs to be well-equipped. Consider a backpack, luggage, laptop bag or other travel gear as a fun but practical gift.
For jaunts around town, Nikki Stewart at Footprints, 1339 Mass., says the Rose City bag by Keen is a popular carry-all for women.
"It's sort of a pouch, a sling that crosses over the body," she says. "It has some smaller pockets like a cell phone pocket in the strap, but it's convenient because it's an open bag so you can put whatever you want inside."
Keen bags start around $25.
• Mark Swanson of Hobbs, 701 Mass, says an ink pen is a tried-and-true choice, especially a writing instrument that will set your graduate apart from the rest.
"Retro 51 is a strong brand for us, and Acme is another one that does a lot of individual looks. They have some personality to them," Swanson says.
"Acme does a lot more designer/artist-connected things. Retro's strongest pen is built on a carpenter's pencil design. It fits a guy's hand real well."
Prices range from $40 to $120.
• If your college graduate is still carrying the "freshman 15" around his waist, perhaps a membership to the local health club will be appreciated. Gift certificates are available at all gyms and fitness centers and can be purchased in three-, six- or 12-month increments. Some, like Curves for Women, are reciprocal with other clubs around the country. Alternate ideas: yoga, Pilates or Zumba classes.
Average club membership price: $45 a month. Per-month rates decrease for longer-term membership and when fees are paid in full.
• If you want to give green, there's nothing like plant life to brighten up a dorm room or first apartment. Make sure to choose something that's low-maintenance to fit your graduate's busy lifestyle.
"A tropical plant would be a great gift to give," says Greg McDonald of Sunrise Garden Center, 1501 Learnard Ave. "And there are some that require very little care. Lucky bamboo is an easy one, but that's not as gift-y as something like a ficus tree would be. If that's too big, think about a philodendron. Not the typically vining kind, but one of the other ones. They're very easy to care for."
Plant prices vary. Contact local garden center for quotes.
• Chances are, your graduating senior already has a cell phone, but you can buy gift cards from his or her service provider for add-ons like accessories, Bluetooth headset, smart phone apps or extra minutes for calling home.
Prices for cell phone covers start around $17; headsets from $20 and up.
• College graduates facing the daunting process of job hunting might welcome the gift of a professional résumé service.
Nancy Hedrick of The Professional Edge Resume & Business Services says a professional résumé writer can give a graduate a critical advantage:
"Employers and recruiters are reading hundreds and sometimes thousands of résumés for each position," Hedrick says. "They want to see well-written career documents filled with achievements and high-impact statements. Unless you are a writer and you know how to create a professional résumé, it is worth the investment to let a professional résumé company craft your individual marketing tool."
The cost of an entry-level or update at The Professional Edge is $95, including a two-hour consultation, five print copies and and a CD of all career files. Cover letters are $35 each.
• For the high school grad headed off to college, give clothing or gear emblazoned with the college of his or her choice's logo. Most universities have online bookstores for easy ordering. College grads might enjoy receiving an artist's rendering of their favorite place on campus as a keepsake.
• Framewoods Gallery, 819 Mass., offers a wide selection of Kansas University prints and memorabilia from various local artists.
Prices for art vary widely, based on size, artist, framed or unframed and whether is numbered or from a limited edition.
• Finally, cash feels neither cold nor hard in a new graduate's hand. And it never goes out of style. Package the currency in a fun way, like peeking out of a gift bag, wrapped in ribbons of the graduate's school colors or tucked inside a velvet box. No matter what the presentation, your gift will be well-received.
Copyright 2018 The Lawrence Journal-World. All rights reserved. This material may not be published, broadcast, rewritten or redistributed. We strive to uphold our values for every story published.