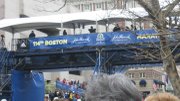 When Tyson Willoughby planned his recent vacation to Boston, he knew he would get to see the city, just from a vantage point that not everyone would normally get to see.
The central portion of Willoughby's trip? Not Beacon Hill or the Back Bay or even the bar from "Cheers," though he saw them all. Nope, it was the course of the venerated Boston Marathon.
"It's kind of like a Super Bowl of marathons. I mean, you could seriously high-five people for 26.2 miles, it's the experience," says Willoughby, an assistant manager at Garry Gribbles, 839 Mass., who went with other store employees and their significant others. "I had never been to the Northeast, so I was really looking forward (to it). We were on our feet a little longer than we wanted to be, but we were just kind of like, 'Eh, it's Boston. It'll be fine.'"
Sure, Willoughby and his friends got to put their feet up and relax with a glass of Sam Adams after the race, but the point of his vacation was to exercise, no doubt. And athletes from the Boston-qualifying elite to your weekend warrior are taking the chance to pursue vacations that allow them to enjoy their favorite sport in new or exotic settings.
Take, for example, some of Beverly Falley's clients at the Lawrence Travel Center, 3320 Peterson Road. These days she's seeing everyone from yoga lovers wanting to head to Mexico to bikers eager to spend their summer cycling around Europe. Wellness tourism, in a word, is hot.
"I just think people in general have become more aware of health and wellness, more like prevention of illness instead of treatment of illness," says Falley, the center's owner, who says fitness trips began popping up 10 years ago. "People are concentrating on wellness, rather than just trying to fix something that's wrong."
The Trail Running and Wellness Retreat for Women, for example, is a summer running retreat in the Colorado Rockies. The retreat is focused on trail running and provides organized group runs, and workshops on proper technique and nutrition, says director Elinor Fish.
Fish's retreat is aimed at beginner or immediate runners who can handle group workouts and want to train for their first race, but other all-inclusive vacations and spot destinations like the Boston Marathon definitely are not. Before selecting an event, Fish recommended researching to make sure the opportunity aligns with personal goals and abilities. "Are they are offering a running level suitable to your current level of fitness? How hard will the runs be? How long?" Fish says.
Participants should select an event that reflects their current abilities, not the abilities they hope to eventually possess. Running or athletic vacations are not designed as a boot camp or weight loss program.
John Novotny of Travellers, Inc., 831 Mass., says that it's important to that your way of life at home go with you on a trip, especially one that is more of a workout than a vacation.
"I think that there's no question that people ... they want to incorporate the lifestyle that they live at home with that of the lifestyle that they want to enjoy when they're taking a vacation," Novotny says. "I think the real evidence to that is the number of destinations and resorts that now offer facilities to meet just about anybody's fitness goal."
Falley says it is also important to look into what equipment is provided and what you might have to provide yourself. An example would be trying to get your bike to your destination if you're planning on a cycling vacation.
"I believe you have to have the bike in a box for the plane," Falley says. "That's the most difficult part of the whole thing, I would think is just getting the bike there."
To that end, Willoughby stuffed all his running gear — shoes, shorts, singlet, socks, etc. — into a tiny carry-on just to make sure they wouldn't end up lost in transit and leave him scrambling at the race expo to find new apparel. But, he says the hassle and planning was worth it, especially once he finally got to sit down and enjoy the city's famous seafood and beer post-race.
"We didn't want to have really any seafood before, just in case that didn't agree with us at all," he says of his pre-race sight-seeing expedition around the city. "But right afterward, everyone is telling us about some of these seafood places out there, so we had gone to a really nice restaurant, just kind of let loose a little bit and enjoyed ourselves afterward."
Copyright 2018 The Lawrence Journal-World. All rights reserved. This material may not be published, broadcast, rewritten or redistributed. We strive to uphold our values for every story published.