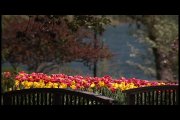 When spring is in the air, it's tulip time in Topeka.
The annual Tulip Time Festival is a citywide beautification event featuring the brief-blooming, colorful grandeur of thousands of tulips and daffodils, artistically bedded at scenic destinations around the capital city.
Designing the tulip beds is a passion for Lake Shawnee horticulturist Julie Trowbridge.
"Designing the beds is a creative process. I see it as art. Planning, putting colors together is an artistic endeavor," says Trowbridge, who considers size, height, color and bloom time when bulb planting.
Ted Ensley Gardens, located on the west side of Lake Shawnee, spans 9 1/2 acres with over 85,000 spring blooms this year. Complemented by a covered bridge, rock gardens, a pergola and gazebo, waterfalls, streams and several ponds, the setting is a picturesque masterpiece.
Volunteers work tirelessly to replace the spring bulbs with thousands of annuals, continuing the garden splendor through the summer months. Jazz in July and Strings in the Summer are two upcoming events planned to savor the surroundings.
Another festival destination, Matrot Castle, features more than 6,000 tulips and daffodils. The brick, Normandy-style castle was built in 1883 by Seraphin Matrot, who came to Topeka to escape political persecution in Europe and replicated a smaller version of his home in France. Open to the public, the castle features three-story turrets, foot-thick walls and the original brick wine cellar, complete with entrance to a secret tunnel.
"Home and Away" premieres at 6:30 p.m. Monday on Sunflower Broadband Channel 6 and replays throughout the week.
Copyright 2018 The Lawrence Journal-World. All rights reserved. This material may not be published, broadcast, rewritten or redistributed. We strive to uphold our values for every story published.