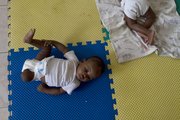 Port-au-Prince, Haiti — Weeks after the 1-year-old was found in a dumpster, his father showed up.
The baby wriggled in his cot, smiled and held up his arms. When the father didn't touch him, the baby started to cry and kick his legs.
The man left moments after he arrived, never to be seen again, according to a report written by a social worker at the Saint Catherine Hospital in the Cite Soleil slum, where the child was taken.
The catastrophic earthquake that left at least 1.3 million of Haiti's 9 million people homeless was the final push over the edge for families that could barely afford to feed their children before. Now stuck in leaky tents with dwindling aid handouts, Haitian families are abandoning their children in the hope that rescue organizations will offer them a better life, aid workers say.
A 4-day-old baby girl was left in a cardboard box outside a hospital. Toddlers are being found alone in hospital waiting rooms. Outside a private clinic, volunteers discovered a 3-year-old holding a bag of carefully-folded underwear. A note pinned to his shirt asked those who found him to look after him.
Even before the magnitude-7 quake, poor parents left children at orphanages where they would at least receive one meal a day. Now the number of abandoned children has skyrocketed, said 37-year-old Tamara Palinka, who helped coordinate logistics at the University of Miami-run field hospital on the grounds of the airport.
"I personally talked a lot of mothers out of giving up their children," said Palinka, who cordoned off a space inside the field hospital's pediatric tent for abandoned children, including another toddler found crawling on a garbage heap.
Orphanage workers say their facilities are swelling with children who are not orphans.
At Mother Teresa's orphanage behind a tall wall covered in concertina wire, nuns in white saris hover over the cribs of children whose arms are attached to drips. They don't take in orphans, only malnourished children who will be returned to their families after they put on weight. They require the mothers to stay on the grounds because otherwise they might not come back.
"We don't let them leave," said Sister Genova, a diminutive woman who weaves between the cribs, reaching out to stroke the head of a twig-like child with bright orange hair, a sign of malnutrition.
Nadine Jean-Baptiste, 35 years old and HIV-positive, recently left her 2-year-old daughter Christine at an orphanage down the street from the storage shed where she now lives.
Before the Jan. 12 quake, she was barely able to pay for her medication and look after her daughter. Then her husband, a cook, was buried inside the restaurant where he worked. She heard his cries from beneath the concrete but could do nothing.
With him gone and her house destroyed, she is weighing a terrible decision: An American couple has expressed interest in adopting Christine. The sick mother lies awake at night trying to decide whether she should sign over her child, a chubby little girl with hair bunched into pigtails.
"I love my child. Giving her away is not my wish," she said, her voice choked with sadness, her body thin as an ironing board from the disease. "But I have nothing to feed her. I have no choice but to give her away."
The United Nation's Children's Fund set up a toll-free hotline in February for abandoned or lost children who had been separated from their families during the quake. The call center has registered 960 children so far. "We don't call them orphans because they could have family," explained Edward Carwardine, UNICEF's spokesman in Haiti.
UNICEF gave the hotline number only to agencies and aid workers — not the public — for fear of an avalanche of calls from desperate families trying to unload their children.
Copyright 2018 The Associated Press. All rights reserved. This material may not be published, broadcast, rewritten or redistributed. We strive to uphold our values for every story published.