On the street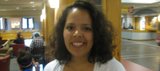 I think that would be a lot of fun to use, to travel between bars downtown.
A new type of pedal-powered vehicle may be coming to Downtown Lawrence.
City commissioners at their meeting on Tuesday will consider a new ordinance that would allow for a 16-person pedicab to operate in parts of downtown.
Lawrence entrepreneur Luke Stone in March asked for the ordinance to open a business that allows people to pedal themselves around downtown in a unique trolley-looking device.
The vehicle features a bar-like table in its center, where patrons sit on stools and do the pedaling themselves while a professional does the steering and braking. Stone originally sought to allow people to bring their own alcohol onto the pedicab, but the city will not consider that option after staff attorneys determined that would violate state laws.
Currently, the city allows small pedicabs to operate within the city. But the new ordinance would allow for pedicabs up to nine feet in width and up to 18 feet long. The ordinance does require operators of the oversized pedicabs to submit any routes that will be traveled to city officials for prior approval. Staff members said that is necessary to prevent traffic conflicts since the large pedicabs travel at about 5 mph.
Commissioners will meet at 6:35 p.m. Tuesday at City Hall, Sixth and Massachusetts streets.
Copyright 2018 The Lawrence Journal-World. All rights reserved. This material may not be published, broadcast, rewritten or redistributed. We strive to uphold our values for every story published.