In a quiet downtown cafe, Loring Henderson quotes Shakespeare over a cup of iced coffee.
Henderson, you see, once owned a shoe store in the upscale Georgetown district of Washington, D.C. The store was named Crispin, after the patron saint of shoemakers. That spurred a memory in Henderson's English-major mind of a famous Shakespearean speech by Henry V, a speech to rally his troops for the battle of their lives.
"Those who won't be here will miss this chance to be blood brothers in this bond," Henderson paraphrases from the speech.
In his small director's office at the Lawrence Community Shelter — where it is much less quiet — Henderson does not often quote Shakespeare.
Instead, he quotes life stories. They are the lives of people who populate the city's homeless shelter and, like Henry V, they are involved in their own battles — less memorialized, certainly, but some perhaps no less noble.
"His father," Henderson says of a shelter guest, "hit him in the back of the head with a claw hammer when he was 4 years old. He's terribly complicated, and he's the most desperate soul because all he wants in life is a job. He just stands by that phone at the front desk and goes through the newspaper every day, pulling out ads about jobs. He gets jobs, but he can't keep them."
At 71 years old, this is the band of brothers that Loring Henderson has chosen.
National TV show to recognize Henderson as mentor
Shelter director Loring Henderson is scheduled to receive some national publicity later this month.
Henderson is slated to be the subject of a piece on ABC's "Good Morning America" that focuses on how Henderson has served as a mentor for GMA co-host George Stephanopoulos.
Stephanopoulos met Henderson in the mid-1980s, when Henderson was a nonprofit administrator in the district and Stephanopoulos was an intern.
Stephanop-oulos ended up going with Henderson to a D.C. soup kitchen where Henderson frequently volunteered. The two have remained friends since.
That's not surprising, said Eric Alterman, a political author and columnist for The Nation, who along with Stephanopoulos rented a room from Henderson in his D.C. home in the 1980s.
"Loring leaves quite an impression on you," Alterman said. "The thing is, he just knows who he is. As long as he is doing what he thinks he should be doing, he doesn't worry about the rest."
The GMA story is tentatively scheduled to air May 18, Henderson has been told. It comes at a time when the shelter is trying to raise $3 million to move to a new location in eastern Lawrence near the Douglas County Jail.
• • •
Henderson used to be a warrior of a different stripe. A Quaker whose parents let him join the military, Henderson saw the world via the U.S. Navy. Actually, he spent more time listening to the world.
He was assigned to the National Security Agency, where he ended up serving as an officer for the spy-like agency at a listening post designed to keep track of the Soviet Union's satellite and nuclear missile test programs.
His job was to predict when the Soviets were about to launch a satellite or a test missile, so that the United States could get its various intelligence gathering devices in place.
"It was cool," Henderson said. "You developed a knack for making that call. It is stupid to think of now. The world is so different. But I couldn't get over the fact that it was like being in a movie."
• • •
Henderson long ago traded in his Navy uniform. These days, he most often wears blue jeans and a consignment-store tweed jacket into battle.
That's the dress uniform to go to City Hall or some other meeting room tucked away in whatever neighborhood is mad at him at that particular moment.
There have been many. For more than four years, Henderson and the shelter's board have been seeking a new home. The shelter is now in an undersized location at 10th and Kentucky streets.
Everywhere he's ever pursued, there's been a fight from neighbors. In every fight, Henderson has marched in like a soldier with a rusty rifle.
"Loring is a saint, but he is not what you would call an astute politician by any means," said John Tacha, a longtime Lawrence businessman who is serving as a co-chair for the shelter's committee to raise funds to relocate to a site near the Douglas County Jail in eastern Lawrence.
Henderson's lack of political weapons is surprising, given that he spent the bulk of his professional career in Washington, D.C. After his six-year stint in the Navy — and after selling his shoe business that grew from one store to four in less than two years — Henderson became a nonprofit administrator.
Over a nearly 20-year career, he gained a reputation as a behind-the-scenes numbers guy for left-leaning, progressive political organizations. At places like Americans for SALT (the old nuclear arms treaty, not the stuff that comes out of the shaker), Business Executives for National Security, and the Center on Budget and Policy Priorities, Henderson oversaw budgets of up to $3 million.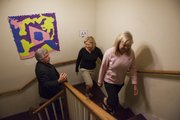 "In D.C., Loring's reputation was for sanity," said Eric Alterman, a political author and columnist for The Nation, who received his first D.C. job from Henderson. "He worked in all these places with a lot of people who were intellectuals and really excited about politics. When you had a problem, you went to Loring to get it sorted out because everybody else made you crazy and made the problem worse."
• • •
That hasn't always been the way it has worked in Lawrence. There are several neighbors of the shelter who insist that Henderson has failed at making the shelter better, especially when it comes to making it fit in with the surrounding Oread neighborhood. Some former guests of the shelter also have criticized Henderson for allowing too unstructured of an environment to exist at the facility.
"He's nice enough and very sincere, but he just didn't get it done," said Phil Hemphill, a landlord and neighbor of the shelter who said Henderson never has had enough rules to make guests behave outside of the shelter.
Those volleys from neighbors come Henderson's way often. It is during that rush of questions and concerns that Henderson's lack of desire to play politics — "It is a skill I've never cared to master," he says — shows through most.
When asked why he lets the homeless fill the shelter's front porch day in and day out, he once told a crowd it's because the shelter wasn't a prison. (He's since made the porch only for homeless guests with families.)
Community Shelter by the numbers
Here's a look at some facts and figures about the Lawrence Community Shelter from the last year.
• 629 people signed into the day and night shelters combined.
• 49 people moved into permanent housing.
• 12 other people were approved for Housing Authority waiting list.
• 42 people started permanent jobs.
• 120 people applied for ID, driver's license and other documentation.
• 46 people applied for disability benefits.
• 43 people entered substance abuse programs.
• 50 additional people went to the emergency room or were hospitalized for physical illness.
• 79 people went to mental health assessments or treatment.
• 51 people were on the shelter's long-term ban list for violating shelter rules as of May 4.
• 14 families with 24 children stayed at the shelter since June 1.
Source: 2009 Lawrence Community Shelter Annual Report, shelter records.
When asked why the shelter often would return liquor bottles to shelter guests upon their departure, he once said because it established trust with the people he was trying to help. (Henderson since has changed the policy because of the uproar.)
When asked why some people are allowed to sit around and play dominoes during the day, he once said he was just glad they were playing dominoes.
And then there is the Breathalyzer. The shelter got its start in 2003 as the Lawrence shelter that didn't require nighttime guests to pass a Breathalyzer test. Henderson has been asked about that one a lot. He always answers that the best way to help people is to have some flexibility. (That's one policy he hasn't changed.)
In short, not only is Henderson poor at politics, he's also good at telling people what they don't want to hear. But he's fine with that. He said he's equipped with solid armor.
"I don't feel pressure from criticism," Henderson said. "I feel pressure from uncertainty. But I don't feel pressure from people saying we're not doing a good job. I know what type of job we're doing."
• • •
Henderson has a brother who's a real been-there, done-everything type of guy. A home in France. A career in Hong Kong. And most of all, time on his hands.
"He calls me almost every day, saying, 'Come on, come on, let's go,'" Henderson says.
Go, as in travel the world. See the sites. Leave this job that paid him $35,000, according to the last tax return filed by the shelter. For Henderson — never married, no kids — it would fulfill a plan hatched long ago.
He left Washington, D.C., in 1993 to be closer to his parents, who were at Brandon Woods retirement facility. Although he grew up in Kansas City, he was born here, and he takes pride in pointing out to people that he has five generations of family members buried in Lawrence's Oak Hill Cemetery.
He came back for family, but, still, the plan was always to leave. In the meantime, though, Henderson decided to "flip his résumé." Despite no formal training — his degrees from Kansas University are in English and history — he decided he would make a living doing the social service type of work he long had done as a volunteer at a D.C. soup kitchen.
For 11 years, Henderson commuted from Lawrence to Kansas City, where he served as the director of the Redemptorist Social Service Center, a food bank/emergency assistance organization.
In 2004, it finally was time to retire. And finally time to start that plan.
"I was going to go overseas and have myself a little adventure," Henderson says. "I had it all lined up. I had a job in Bangladesh doing micro-business work. It was going to be fun."
But he didn't go. Joined a nonprofit board instead. That board talked him into being a part-time coordinator for a new homeless shelter. And now … well, he sits more than part-time in this director's office.
A sign that reads "hope" hangs over the office's tidy desk. A wooden walking stick signed by former interns leans in a corner. On the office's bookshelf, a grant-writing book sits next to the Bible.
"Quakers," he says of his faith, "don't believe much in heaven. The theory is that heaven is possible on earth if everybody acted correctly every moment. If we did that, we could have heaven now."
So, he tells one brother no, to continue — as Henry V would say — to fight another day with "we few, we happy few, we band of brothers."
Copyright 2018 The Lawrence Journal-World. All rights reserved. This material may not be published, broadcast, rewritten or redistributed. We strive to uphold our values for every story published.