London — Within days, Britain may have something it hasn't seen since World War II — a coalition government.
The first-place Conservatives and third-place Liberal Democrats are negotiating in hopes of resolving an election that failed to produce a clear winner. It remains to be seen whether the right-wing and center-left party can share power or even cooperate on keeping a minority Conservative administration in control of Parliament. They are likely to find common ground on the economy and taxes but have divergent views on voting-system reform, nuclear weapons and some key foreign policy issues.
With negotiations between the parties likely to stretch on for at least two more days and the ruling Labour party still lobbying for its own alternative coalition with the Liberal Democrats, the only thing that's clear "is how confused it is at the moment," according to Bill Jones, a professor of politics at Liverpool Hope University in northern England.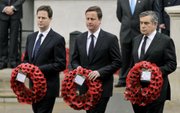 Uncertainty has a cost: Market jitters over Britain's record deficit mean that there's increased pressure on both parties to compromise on their principles for the sake of economic stability.
"We have a political crisis in the country, in terms of a growing awareness that the voting system is totally inadequate," Jones said. "The other crisis is the economic crisis, which is how to deal with the deficit. Those two things are competing with each other."
With 306 seats in the House of Commons, David Cameron's Conservatives are still 20 short of a bare majority. But if they are backed by the 57 legislators from third-place Liberal Democrats they would have a comfortable cushion for passing the legislation they say is desperately needed to control Britain's $236 billion debt.
But while both Tory leader David Cameron and Liberal Democrat chief Nick Clegg agree on the need for spending cuts, the pace of austerity measures is likely to be slower than if Cameron had won a majority. Cameron has pushed for immediate cuts, while Clegg's party has counseled a slower approach that they say will safeguard the recovery.
The two have much else in common: Clegg's plan to cut taxes for the lowest-paid British workers would likely be taken up in a coalition government, and the partners would agree to scrap a planned rise in National Insurance — a payroll tax levied on employers and their staff.
Both have pledged action on civil liberties and would likely take quick action to scrap Britain's planned national identity card program. Cameron is eager to burnish his party's green-friendly image, and both he and Clegg could be expected to lobby Britain's allies for an international deal to reduce greenhouse gas emissions.
Although the two parties have divergent views on foreign affairs, both are committed to keeping British troops in Afghanistan, at least in the short term. Clegg's party describes itself as a "critical supporter" of the conflict, while Cameron has pledged a withdrawal of British forces within five years.
But the potential partners also have major disagreements over Europe — Clegg's party is in favor of Britain eventually joining the euro currency, a policy Cameron's bloc bitterly opposes. There may be tensions too on how to handle Iran's nuclear program, the Liberal Democrats say they'll support targeted sanctions but would not back military action.
The biggest stumbling block to cooperation may be electoral reform. Liberal Democrats advocate a system common in continental Europe in which parties win seats in proportion to their share of the total vote — a system that is much less likely to put one party in a dominating position. The Conservatives fear such reforms would leave the Liberal Democrats holding the balance of power indefinitely — and potentially freeze them out.
Copyright 2017 The Associated Press. All rights reserved. This material may not be published, broadcast, rewritten or redistributed. We strive to uphold our values for every story published.