London — Britain's inconclusive election turned into high political drama Friday, with the Conservatives and Labour Party wooing a potential ally as the markets pressed for results and a public accustomed to clearer outcomes watched transfixed.
Conservative leader David Cameron, ahead but shy of a majority, seized the initiative with a "comprehensive offer" to the ideologically dissimilar but possibly willing Liberal Democrats.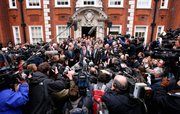 Labour incumbent Gordon Brown, beaten but still battling, dangled before the Liberal Democrats their dream of major electoral reform. A weekend of frantic negotiations loomed — but momentum seemed to be with the youthful Cameron.
Liberal Democrat leader Nick Clegg did not immediately respond in public to his opponents' overtures, but said earlier that the party that had gained the most seats and the most votes — the Conservatives — should have the first right to try to govern.
"I think it is now for the Conservative Party to prove that it is capable of seeking to govern in the national interest," he said.
Ideologically, the center-left Clegg has more in common with Brown. Both oppose the immediate cuts Cameron says are needed to begin rebalancing Britain's debt-burdened economy and both have attacked his Tories as the party of privilege. Clegg has clashed with Brown and Cameron over Britain's expensive submarine-launched nuclear deterrent, which the Liberal Democrat leader has indicated he may want to scrap.
But the Conservatives have held out the tantalizing prospect of Liberal Democrat seats in a Tory government, with senior Conservative lawmaker William Hague saying Cabinet posts were not "off the table."
The 43-year-old Cameron said "we have to accept that we fell short of an overall majority" as results showed his party had won 306 of the 650 seats in the House of Commons — less than the 326 needed for outright victory.
"Britain needs strong, stable decisive government and it is in the national interest that we get that on a secure basis. ... I want to make a big, open and comprehensive offer to the Liberal Democrats," he said.
But Cameron promised only a "committee of inquiry" to look into the Liberal Democrats' major goal, reform of Britain's electoral system so that the number of seats gained is based on the percentage of vote a party achieves. They say that is fairer than the current system, in which a party can win a parliamentary majority by getting only a third of votes.
Cameron also left open the option of trying to form a minority government if the Liberal Democrats turned him down.
Copyright 2018 The Associated Press. All rights reserved. This material may not be published, broadcast, rewritten or redistributed. We strive to uphold our values for every story published.