A college diploma can be just a piece of paper, but it can also be much more. It's what you do with that diploma that really matters.
That's the message Haskell Indian Nations University graduate Maria Hinton passed on to a group of outstanding students in the university's casino management class Thursday evening.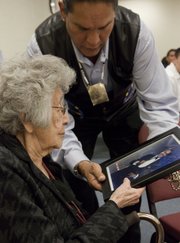 "My grandmother always said, 'Go to school,'" said Hinton, who now lives in Oneida, Wis.
Hinton, 99, is Haskell's oldest living graduate and earned her diploma in the 1920s. She witnessed football player Jim Thorpe kick a field goal on the Haskell football field. It was a different time then, she said, when boarding schools were the only option for American Indian students, and schools worked to pull Native traditions out of the children's lives.
"It was a tough time," Hinton said.
Hinton is just a month away from celebrating her 100th birthday. She said her work on the recently finished Oneida dictionary is more noteworthy than any birthday, though. She recently put the finishing touches on a one-of-a-kind Oneida dictionary complete with 12,000 audio files, thousands of Oneida words and life stories.
"My brother and I worked on the dictionary, and now you can use the dictionary with my voice on it," Hinton said. "I looked at how many words and how long, but I am 99 years old now, so I am a little forgetful so I forget what I read."
The actor Litefoot was also a guest speaker at the awards ceremony Thursday night. He has starred in movies including "The Indian in the Cupboard" and "Mortal Kombat: Annihilation" and is also a well-known Native American rapper.
Copyright 2018 The Lawrence Journal-World. All rights reserved. This material may not be published, broadcast, rewritten or redistributed. We strive to uphold our values for every story published.