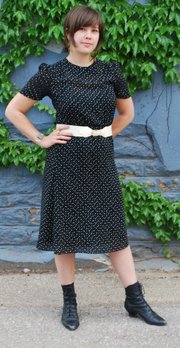 Sarah Wertzberger
Age: 29.
Sign: Sagittarius.
Occupation: Art teacher and yoga Instructor.
Hometown: Lawrence.
Time in Lawrence: I grew up in Lawrence and moved back about a year ago.
What were you doing when you were scouted? On my way home from work downtown.
How would you describe your style? I don't have any particular rules about what I wear, I just wear what I like. I usually go for bright colors and bold patterns.
What are your current favorite fashion trends? Some of the colors and floral patterns from the '90s, rayon or silk fabrics, and patterned leggings.
What are you least favorite fashion trends? Wearing pajamas outside the house; Ed Hardy shirts.
What would you like to see more of in Lawrence? Secret swimming holes, canoeing the Kansas River, F.U.N., and Lawrence townie pride.
What would you like to see less of in Lawrence? Pollution of the Kaw River and Johnson grass.
Who are your fashion influences? Civil war re-enactors, Geronimo, people who have fun with what they wear and African prints.
People say I look like: No one in particular, but I'm often asked if I am half-Asian.
Tell us a secret: I was Bjork's hand double in a Matthew Barney art film.
Dress: Arizona Trading Company, April 2010, $12.
Shoes: Wild Man Vintage, November 2009, $18.
Belt: from my grandmother's closet, March 2010, free.
Bracelet: 2005, gift.
Copyright 2018 The Lawrence Journal-World. All rights reserved. This material may not be published, broadcast, rewritten or redistributed. We strive to uphold our values for every story published.