Where the chase began
A man who led multiple law enforcement agencies on a chase down the Kansas River has been apprehended.
Officers spent close to three hours Wednesday morning following the man along and in the Kansas River, using helicopters and boats.
The chase began before 10 a.m. in Topeka, and about 12:30 p.m., Shawnee County sheriff's officers had the man in custody. A Kansas Department of Wildlife and Parks official, who had been part of the search on the river, said the man was caught about a mile east of the electrical generating plant near Tecumseh.
"We knew where he was held up at; we just needed to get access to him," said Ryan Smidt with the Kansas Department of Wildlife and Parks. "Every time they tried getting to him, he jumped into the water."
Jefferson County sheriff and Wildlife and Parks officers also launched an air boat from the Kansas River bridge in Lecompton. That's close to the location where the man was captured.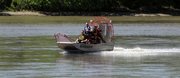 Authorities said the suspect stopped on a sandbar, allowing sheriff's deputies to drop from a helicopter and apprehend him.
Shawnee County Sheriff's Lt. John Ostenson said officers were called at 9 a.m. to reports of suspicious burning at a boat ramp at Northeast Seward Avenue and Goodell Road in Topeka. At the scene, they found a person in the middle of the Kansas River who they believed was in distress.
Officers began a rescue operation with dive teams and helicopter support, but the suspect eventually got out of the river on his own and led police on a chase, jumping in and out of the river multiple times.
The Shawnee County sheriff's department arrested the suspect who was on the run and a man who was also believed to be involved in suspicious burning.
Authorities say the suspects were allegedly burning insulation of stolen copper wiring.
The suspects are identified as Eric Nathaniel Jim and Roy Hector Wahquahboshkuk, both of Mayetta.
Smidt said about Wahquahboshkuk, who allegedly initiated the pursuit, "When we got him, he was compliant, no problems whatsoever."
Smidt added that Wahquahboshkuk was wet and muddy but uninjured. He declined medical treatment.
Copyright 2018 The Lawrence Journal-World. All rights reserved. This material may not be published, broadcast, rewritten or redistributed. We strive to uphold our values for every story published.