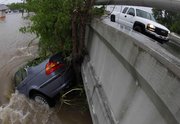 Nashville, Tenn. — Devastating thunderstorms slammed Tennessee and northern Mississippi over the weekend, killing at least 15 people, five in Nashville, closing scores of highways, and leaving weeks of cleanup for thousands of residents whose homes were damaged.
Thousands were evacuated and hundreds of others were rescued from their homes — some plucked from rooftops — as floodwaters from swollen rivers and creeks inundated neighborhoods across the region. Hospitals, schools and state buildings also were flooded.
Firefighters busted through the windows of Audrey Talley's trailer early Sunday to rescue her family, including her three small grandchildren, ages 9 months to 4 years old. Talley's son woke her up to tell her water was coming into the trailer in south Nashville. Within 10 minutes it was knee deep.
"We've lost everything," the 47-year-old Talley said at an emergency shelter at Lipscomb University. "I don't know what we're going to do. We've got nowhere to go."
The Cumberland River has reached its highest level since an early 1960s flood control project was built and is continuing to rise, threatening portions of downtown Nashville.
The National Weather Service says the river is expected to reach its crest early today.
The forecast calls for a crest of 50 feet, about 10 feet above flood stage. That would lead to some flooding near Nashville's downtown tourism industry, the train depot and near LP Field, where the Tennessee Titans play.
Authorities have evacuated residents there and in the MetroCenter area where a leaky levee threatens 500 residents and about 150 businesses. The previous record was 47.6 feet.
Tornadoes or high winds killed at least four people, unexpected flash floods swept some unsuspecting residents to their deaths and an untold number of homes were flooded as urban drainage systems and watersheds struggled to remove the deluge.
Tennessee Gov. Phil Bredesen called it an "unprecedented rain event," but that failed to capture the magnitude. More than 13 inches of rain fell in Nashville over two days, nearly doubling the previous record of 6.68 inches that fell in the wake of Hurricane Fredrick in 1979.
"That is an astonishing amount of rain in a 24- or 36-hour period," Bredesen said Sunday.
At least 11 were dead in Tennessee and four in northern Mississippi. Tennessee Emergency Management Agency officials say there is likely a 12th victim, but a body has not been recovered. The death toll from storms in Arkansas, Mississippi and Tennessee since April 24 has risen to at least 26 with several people missing. Three people in Mississippi were killed when tornadoes hit their homes and a fourth died after he drove into floodwaters.
The cause of the destruction was apparent to those who responded Sunday to what remained of the mobile home of Latoya Long, 25, and Thomas Catrell Cowan, 26, who were killed early Sunday morning in Ashland, Miss.
"It looks like you stuck about four sticks of dynamite on it and it just disappeared," Benton County coroner John Riles said of their home. Across the road, he said, a two-story house was just gone. "If you didn't know the house was there, you'd just think it was a vacant lot."
High winds or a tornado also contributed to the death of Phyllis Ann Sabbatini, 45, in nearby Abbeville, Miss., and a confirmed tornado killed 64-year-old Mary Buxton in the community of Pocahantas, Tenn., about 70 miles east of Memphis. Officials said the other deaths in Tennessee were all due to flooding.
The weekend deaths came on the heels of a tornado in Arkansas that killed a woman and injured about two dozen people Friday. And just a week ago 10 people were killed by a tornado from a separate storm in western Mississippi.
Flooding and damage was so widespread in Tennessee that Bredesen asked the state's Army National Guard to help, and dozens of vehicles and personnel were put to work rescuing stranded residents. Nashville Mayor Karl Dean reported more than 600 water rescues in the city alone.
One building in east Nashville was caught on video floating down Interstate 24 and passing stranded vehicles. The video was quickly uploaded to YouTube.
Copyright 2018 The Associated Press. All rights reserved. This material may not be published, broadcast, rewritten or redistributed. We strive to uphold our values for every story published.