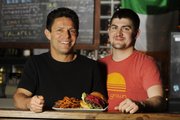 In 2009, the Molly and Robert Krause helped turn Dempsey's Pub into one of downtown's most popular eateries. The concept was relatively simple — offer seven or eight modestly priced gourmet burgers and a few flavors of gourmet fries.
The Burger Stand proved to be a coveted complement to Dempsey's beer and pleasing environment. But that's about to change. Molly Krause announced today on her blog that later this summer The Burger Stand will move into the Casbah Market building — right next door to Esquina, the taco joint they just opened in February.
"We will be opening sometime this summer, but will still be serving out of the Demspey's location until then. The action around here just never seems to stop. I used to think that there would be a time of quiet, but I now have to admit that I like the action as much as Robert." — Molly's full blog.
Copyright 2018 The Lawrence Journal-World. All rights reserved. This material may not be published, broadcast, rewritten or redistributed. We strive to uphold our values for every story published.