Photo Gallery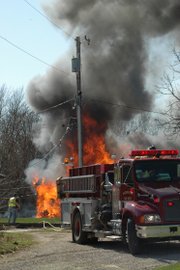 Car destroyed in Baldwin City fire
Baldwin City — A four-door car was the primary casualty of a structure fire in Baldwin City Wednesday afternoon.
Fire crews from Baldwin City Fire Department arrived at the house, 316 Elm Street, shortly after 4 p.m. and found the garage building behind the house in flames.
Firefighters were concerned the vehicle might explode during the blaze, so surrounding houses were evacuated. Flames shot nearly 20 feet into the air as black smoke billowed from the fire.
Firefighters battled the blaze for nearly 30 minutes before it was extinguished. The building was completely destroyed. Inside the building were a four-door car and lawnmower, among other items, according to Bill Randel, who lives in the house.
Baldwin City Fire Chief Allen Craig said the cause of the fire was under investigation. Several area fire departments helped fight the fire.
Copyright 2018 The Lawrence Journal-World. All rights reserved. This material may not be published, broadcast, rewritten or redistributed. We strive to uphold our values for every story published.