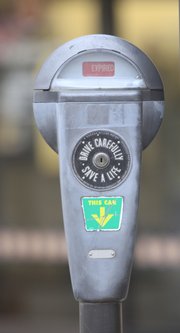 -->
Don't tell Donnie Kern that a parking ticket in downtown Lawrence doesn't have any bite.
Kern got two of them in one day when she was at her job as a server at Genovese. Each ticket came with a $50 fine, well above the normal $3 penalty.
"I couldn't believe it," Kern said. "I pretty much worked for free that day."
The high-priced tickets are part of a revived program at Lawrence City Hall that aims to crack down on "habitual" parking violators — defined as motorists who have had five or more parking tickets in the previous 30 days.

The new effort — which has produced 122 tickets since March 10 — has aroused a wave of concern from downtown employees and some business owners. Jeremy Furse — owner of Britches Clothing, 843 Mass. — has circulated a petition asking city commissioners to repeal the $50 fine provision. By Monday afternoon Furse had collected about 425 signatures and still had picked up only half of the petitions.
"I'm fighting this because I just feel that it is far too punitive," Furse said. "It is far too punitive for residents of downtown, too punitive for employees, and heaven forbid one should get on a customer's car. I don't think they would ever come back to downtown."
But some downtown businesses are on board with the new tickets. Jane Pennington, director of Downtown Lawrence Inc., said there's a need for the policy.
"I know there are difficulties in parking for employees," Pennington said. "But our attitude is that the best places should be reserved for our customers, and if it takes an ordinance like this to ensure that, then we need to do that."
Furse said he also doesn't want to do anything to make it more likely that employees will park in prime spots along Massachusetts Street or in two-hour lots along Vermont and New Hampshire. But he said the city's new policy is punishing employees who are trying to do the right thing. He said an employee of his received a $50 ticket for overparking in a five-hour meter along Vermont Street.
"It is hard to work downtown and not get a few tickets in a month," Furse said. "You get busy with customers and you just aren't able to go put more money in."
He said the situation has gotten worse since the city temporarily closed a 10-hour parking lot as part of an expansion of the Carnegie Library building at Ninth and Vermont streets.
Pennington said she likely would support the city temporarily suspending the higher fines for the 800 block of Vermont Street while the parking lot is closed. She said a longer term solution is to convince more employees that parking in the city parking garage at Ninth and New Hampshire — where parking on the top level is free — is their best bet.
But Kern and other female employees downtown said they did not feel safe parking in the garage, especially when they must work late into the night. Kern also said a 10-hour lot near the city's homeless shelter was not frequently used by workers.
City Commissioner Mike Amyx, who owns a barber shop downtown, said he wants to consider changing the ordinance to penalize only motorists who have five unpaid parking tickets within the last 30 days. The current ordinance charges the higher fee to people regardless of whether they have paid their past tickets.
The city first created a habitual parking violator ordinance in 1996. It was enforced for several years. It has not been enforced for about the last three years after concerns were raised that the ordinance was written in a way that made it unconstitutional. City attorneys rewrote the ordinance last year when commissioners approved higher parking fines and fees for downtown. The city began enforcing the ordinance in early March.
City commissioners are expected to discuss the ordinance at their meeting that begins at 6:35 p.m. today at City Hall.
Copyright 2017 The Lawrence Journal-World. All rights reserved. This material may not be published, broadcast, rewritten or redistributed. We strive to uphold our values for every story published.