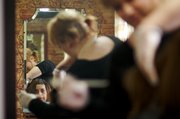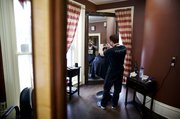 Nancy Riding just began coloring her hair a year ago.
The Shawnee resident had some gray she wanted to color before getting married, and now she's not sure how she'd ever be able to go back to her natural state.
"I don't think there's a way to go back gracefully. You'd have to go through a hideous stage," Riding says while sitting in her colorist's chair at Headmasters Salon, 809 Vt. "It's kind of once you do it, you're vested in doing that. Unless you wear a wig for six months or something."
It's true that in a well-groomed woman's life, nothing's worse than roots that stop in a severely straight line halfway down your mane.
But sometimes, returning to one's roots is necessary, whether it be because of a bad home dye job, a desire to give up the ghost and admit you're gray, or your pocketbook begs for a break from once-a-month treatments.
But is there a way to avoid looking like you're growing out your hair color? We asked local colorists for their tips and tricks to return to your roots as gracefully as possible.
Covering your bases: The most popular choice among Lawrence stylists for clients returning to their roots seems to be picking a semi-permanent hair color close to the person's natural shade (or close to what your fuzzy memory tells you is your natural shade).
Unlike the permanent hair color, a semi-permanent dye stains the hair and fades as it grows out, rather than leaving an obvious line of demarcation. Therefore, the idea is that you can keep coloring it with semi-permanent dye until your natural shade has finally grown from roots to tips before letting the semi-permanent dye fade out. It's a long process, admits Brenda Peterson-Smith, owner of Hair Experts Salon and Spa, 2100 W. 25th St.
"Remember, the color is going to fade," Peterson-Smith says. "So, that needs to be done on fairly regular basis, just to keep it looking so it's not two-toned."
Note: Because it is a stain, it's best for people going from lighter locks to their natural darker roots. Therefore, it's a good option for bottle blondes and people who have their hair obviously highlighted.
Returning to gray: Streaks of color might be a good way to go if you have gray roots and are trying to grow out the color you've been using to hide them.
"Sometimes when women go back to gray, it's good to highlight their hair as they go back to gray so it kind of helps break things up," says Kirsten Fitch, stylist at the Blue Dot Salon, 15 E. Seventh St. "You want it to look natural, even if it isn't."
Blending in: Along the same lines of the highlights for gray hair is lowlights for people going from a lighter shade to a darker shade, says Molly Warren, stylist at The Green Room Salon, 924 1/2 Mass.
"They do lowlights and they just let their hair grow out and they do a few lowlights every now and then to blend it," Warren says of the method.
Cutting your losses: Of course, one way to make growing out your roots more bearable is to slash the time you have to deal with them by going for a shorter 'do.
"If it's 2 feet long, you'll have to continually do something to it," Peterson-Smith says of growing out color on longer hair.
Put it off: One strategy if you're not ready to return to your roots but you can't afford your color anymore is to stretch out your appointments. If your color isn't too drastically different than your roots, you can go up to eight weeks without an appointment. Riding's stylist, Micki Colgan, co-owner of Headmasters Salon, is seeing color appointments spaced further apart .
"People budget for their hair because it makes them feel good not just for one day, but for six to eight weeks," Colgan says. "I think when it comes to going out drinking on Saturday night or getting their hair done, they're going to get their hair done."
Copyright 2018 The Lawrence Journal-World. All rights reserved. This material may not be published, broadcast, rewritten or redistributed. We strive to uphold our values for every story published.