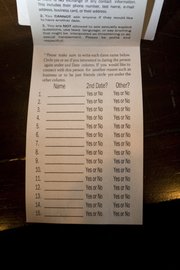 Unless you're the most charming and confident person in the world, or you're a sadist, dating is horrible. It's really the worst. Everything about it is just awkward and painful, from introducing yourself to strangers to the teeth-gnashing small talk of a first date.
What's more disheartening is that dating has gone digital, so that people can now disappoint one another with the speed and efficiency afforded by the Internet. A new study by researchers at Kansas University, published in the February issue of the Journal of Social and Personal Relationships, found that online daters lie to each other on matchmaking sites with the same frequency as they would in person. It's meat market, 2.0.
That study intrigued me. As a single misanthrope who hasn't been on a proper date in ages, I was curious if the dating scene was really still a cesspool of deceit.
Not wanting to go to the trouble of signing up for sites like eHarmony or Match.com, which could take weeks to set up a real world date, and not wanting to randomly hit on women in public, which could get me slapped or arrested, I found the perfect alternative—speed dating.
Speed dating is a job fair of sorts, with women sitting at stations and men cycling through those stations for five to ten minute meet-and-greets.
The nearest event I could find was through a service called KC Speed Dating. I signed up through their Web site, paid my $30 admission fee (which, as a friend pointed out, is typically a lot less than what you would spend on dinner and a movie for a traditional first date), and then let the dread wash over me. What exactly was I getting myself into?
When I arrived at the event site, Qudos Cigar & Cognac Bar in Kansas City, two very pleasant women from KC Speed Dating greeted me at the door and gave me a name tag and ballot. One of the hostesses, LeAndrea Harden, walked me through the process: I would begin with the woman assigned to table seven, have a seven-minute date with her, write down the woman's name on my ballot after the date, indicate whether I would like to go out on a second date with her, move to the next table, rinse, repeat.
It should be noted that there are speed dating events out there to suit everyone's taste, catering to age, sexual orientation, religion, etc. This particular evening was for heterosexual "professionals," (which I put in quotes because I hardly qualify as professional) ages 31 to 41.
Ready to date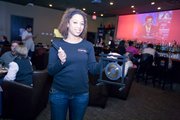 Once everyone was settled, LeAndrea hit a little prop gong and, BONNNG, the courting commenced. I introduced myself to the woman sitting across the table, Pam, and we shook hands. Her first question was, "So, have you done this before?" She beat me to the obvious ice breaker. After establishing neither of us had done speed dating before, we proceeded with pleasant — if a bit forced — small talk. Once we got going, Pam and I had a very nice conversation. She revealed that, on top of her 9-to-5 day job, she was the manager for her friend's band. This led to an interesting discussion about marketing through social media and … BONNNG. The date was over.

I jotted Pam's name down on the ballot, shook her hand and thanked her for the nice time, and shuffled over to the next table. BONNNG. And so it went for six more dates. I dated a banker, a children's service worker, a Federal Reserve employee, an AT&T; representative, a debt collector, and a hilarious woman named Adrene who jokingly asserted that squirrels lived in my mustache. They were there for a variety of reasons — some were single moms, some were divorcees, and some were just young professionals without the time to deal with the usual dating nonsense.
A few of the women I had a lovely time with, lost track of time with them, and was startled — and frankly a little disappointed — that the date came to such an abrupt end.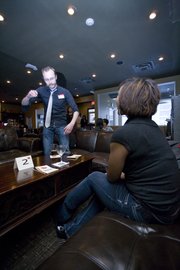 Match or no match?
After the last BONNNG, we all turned in our ballots. The ballots are cross-referenced and, if you and another of the daters both indicated a willingness to go on a second date, KC Speed Dating will pass along contact information. According to KC Speed Dating's founder, Ahmad Battles, 70 percent of attendees receive matches. Since I was doing this out of curiosity and for research (which I was up front about with everyone I dated), it wasn't appropriate to mark that I wanted a second date with anyone. My ego will never know if I charmed my way into these women's good graces.

I afterward asked one of my dates, Samala Gaskins, how she enjoyed the experience. "I really enjoyed my first time at speed dating and would try it again," said Gaskins, the children's service worker. "There was only one painfully awkward encounter when there was little exchanged in the conversation.
"The appeal of speed dating is that it's more targeted and focused," she continued. "It takes out the mystery in wondering if the speed daters are truly looking to date. I like it personally because, compared to bars and clubs, the atmosphere is more conducive to begin the process of getting to know someone. Also, the dates are professional and more likely to have the same dating goals as you."
To get an authentic perspective from the dudes' side, I found a speed dating pro. "I believe this was my fifth speed dating event," said Danny Helmich, one of my friendly adversaries for the affections of these ladies. "I have friends that have spent thousands of dollars on dating services and they get to meet just a few women. I pay $30 and meet eight to twelve women in one night. Even if I don't find that special person, I've met some great people that have done some interesting things their life. I have a chance to meet a new friend."
Copyright 2018 The Lawrence Journal-World. All rights reserved. This material may not be published, broadcast, rewritten or redistributed. We strive to uphold our values for every story published.