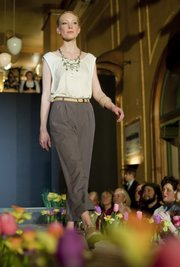 For the past few weeks, I have been infatuated with the concept of colorful clothing and bright accessories. For a laundry-list of easy ways to incorporate more color into your spring wardrobe, read on.
1. Multicolored, stacked heels:
A stacked heel is a great option for a comfortable, daytime shoe. Look for an updated version in a unique hue. C'mon, choose anything but all-black and too sensible.
2. Cheerful, flowery gladiators:
Pick out a new gladiator for springtime in your favorite shade. They'll be perfect for daytime wear — plus, a healthy dose of color is sure to keep your spirits up if you get stuck in your office when the sun is out. For an ultra-feminine look, choose a pair with soft, flowery fabric or bows.
3. Pink, purple, and green bangles:
Pile on bangles — monotone layers mixed with natural, wooden bracelets is one great way to balance lots of color. Also, play around with the shapes and widths of each piece — wide, circular bangles and slim, square bangles might be worn together, for example. This provides even more variety between each color.
4. Shiny red or blue belts:
Turn an outfit into a crisp, nautical look. Combine the red, white, and blue items from your closet — navy blue skirts, blue skinny jeans, white sailor pants, train-conductor pants, red tank-tops and Oxford shirts. Add a belt for a bit of definition.
5. The perfect yellow raincoat:
Make sure you've got a colorful raincoat or trenchcoat on hand for all of those April showers. While everyone else is bummed about the grey sky and worried about their hair, you'll be stylish, cheery and dry.
6. Silk scarves:
The ultimate cure if you're in a rush — a lightweight, silk scarf adds instant class and refreshing, clean color to almost any outfit. Old T-shirt and jeans? No problem — tie a scarf around your neck or on the handle of your purse.
7. A bold, beaded statement necklace:
Purchase a layered or tiered necklace with lots of color. Look for an interesting pendant or colorful, natural stones. Choose one that will mesh well with your own wardrobe, perhaps casual-chic or boho. Lanvin's Spring 2010 RTW Collection has tons of options, including chunky, tribal-inspired pieces.
8. Coral Lipstick:
Paint your lips in a bright coral or red. Lipstick is an easy way to mix-up your makeup routine and vary your look from one night to the next. Instead of heavy eye makeup, go light on the mascara for a nice balance that makes your lips stand out.
9. Polka-dots:
… but not just black and white. Colorful polka-dots on a contemporary shape look most modern. Check out Derek Lam's star-dot dress for an interesting twist on the classic pattern.
Copyright 2018 The Lawrence Journal-World. All rights reserved. This material may not be published, broadcast, rewritten or redistributed. We strive to uphold our values for every story published.