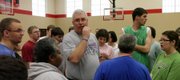 Reporter Shaun Hittle and photographer Kevin Anderson followed the Douglas County Special Olympics team to the State Basketball and Cheerleading Tournament in Hays March 18 to 20. This is a glimpse into the lives and experiences of these local athletes, their families and volunteers during the annual event.
The local all-volunteer organization began in the 1970s and was originally known as the Green Machine. After growing to the biggest Special Olympics team in Kansas in the 1980s, the organization became "essentially nonexistent" by the 1990s, said John Samuels, local program coordinator. Samuels and other volunteers restarted the team in 2004, beginning with only five athletes.
The team was also known as the Gators, but changed to its current name of Jayhawks because of the strong support the team receives from Kansas University athletics programs, Samuels said.
Today, the team has more than 100 athletes and 50 volunteers and participates in nine sports: basketball, cheerleading, swimming, bocce, bowling, volleyball, golf, powerlifting, and track and field.
For more on the team, visit www.dcsojayhawks.org
Special Olympics Worldwide
Founded in 1968, the Special Olympics has a presence in nearly 200 countries worldwide. The organization features a wide variety of sporting events, encouraging community inclusiveness to millions across the world who have an intellectual disability.
Those who participate in the Special Olympics must be at least 8 years of age and have "an intellectual disability; a cognitive delay, or a development disability, that is, functional limitations in both general learning and adaptive skills."
For more information on Special Olympics worldwide, visit www.specialolympics.org.
Copyright 2018 The Lawrence Journal-World. All rights reserved. This material may not be published, broadcast, rewritten or redistributed. We strive to uphold our values for every story published.