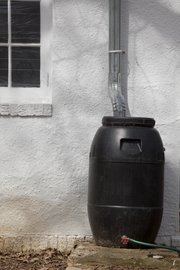 Simply put, a rain barrel is a container that collects and stores rainwater for future use. Most users place them under gutter downspouts to collect rooftop runoff and use the water to maintain their lawns, landscapes and gardens.
So why would you want one?
Lawrence resident Susan Bolton says her rain barrel helps save on the water bill and keeps her from dragging hoses all over the yard to water.
I concur with Bolton and add that the barrel is especially useful at a home with a water softener if the outdoor water source is not plumbed into the water line prior to the softener. Softened water is harmful to plants, and bypassing the softener wastes water and takes time.
Rain barrels also reduce the amount of stormwater that leaves your property, although the amount of water captured by a 55-gallon barrel is nominal in comparison to the 700 gallons or more of water that runs off a typical roof from a 1-inch rain.
Excessive stormwater runoff causes flooding and picks up soil, pet waste, salt, pesticides, oil, litter and other pollutants and carries them into nearby waterways.
"I do feel like I am helping the environment by reducing runoff into storm sewers," Bolton says. To create a bigger impact, she hopes to make two or three more rain barrels and link them together. The additional barrels will also ensure that she has enough water to last through any summer dry spells.
Rain barrels can be purchased at some local hardware and farm supply stores, or you can make your own. Bolton made her barrel several years ago at a workshop sponsored by the city.
"I found that making the rain barrel was quite easy, but I am pretty comfortable using power tools," she says.
Bolton would have already made additional barrels, but she has not been able to find the style of barrel she is looking for to start with, and she prefers making her own to purchasing the pre-fabricated barrels.
Bolton also plans to install a rain barrel under a downspout near a basement corner that leaks to see if she can reduce the runoff enough in that area to prevent the problem in the future.
There are many options and design plans for creating your own rain barrel. This is just one plan for creating your own barrel:
Supplies:
• a heavy-duty plastic barrel (most rain barrels are 55-gallon capacity)
• one 3/4-inch hose bib spigot
• one 3/4-inch overflow valve (male hose MIP adapter)
• two 3/4-inch galvanized locknuts
• two 1-inch rubber washers
• Teflon tape
• Silicon glue
• Cinder blocks or other material to elevate the barrel
Optional supplies:
• If the lid has openings, purchase fiberglass window screen to cover the entire top opening. Stretch the screen across the top and either screw the lid on to hold the screen in place or use a bungee cord.
• A short garden hose for the overflow valve. ( I use a washing machine drain hose.)
• A skimmer basket (found with garden pond supplies) to place where downspout meets the barrel
• Paint (if you want to decorate your barrel)
Tools
• drill and 1-inch bit
Instructions
• Drill 1-inch hole at least 2 inches from bottom of barrel and install hose bib spigot
• Drill 1-inch hole at least 2 inches from top of barrel and install overflow valve
• Install basket or screen on top of barrel. Openings should be secured to prevent mosquitoes from entering the barrel.
• Install the barrel under a downspout. Elevating the barrel on cinderblocks will increase the flow rate and make it easier to fill a watering can.
- Jennifer Smith is the Horticulture Extension Agent for K-State Research and Extension-Douglas County and can be reached at 843-7058.
Copyright 2018 The Lawrence Journal-World. All rights reserved. This material may not be published, broadcast, rewritten or redistributed. We strive to uphold our values for every story published.