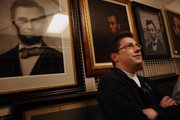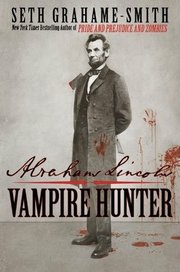 Springfield, Ill. — On a recent afternoon, Tom Schwartz, the state historian of Illinois, greeted Seth Grahame-Smith, the author of "The Big Book of Porn." They shook hands in the lobby of the Abraham Lincoln Presidential Museum, then crossed the street to the Abraham Lincoln Presidential Library. They entered an elevator that carried them beneath the street, to the Lincoln archives. Here, the state keeps one of five known copies of the Gettysburg Address.
Did Seth want to hold it?
Yes, he did.
He had flown in from Los Angeles for the day, to start the tour for his latest best-seller, "Abraham Lincoln: Vampire Hunter." He was starting the tour at the Abraham Lincoln Presidential Library and Museum — at the request of the Abraham Lincoln Presidential Library and Museum. Schwartz was thrilled.
Everyone was thrilled.
The manager of the gift shop told him she didn't want to read his book at first because it seemed so stupid and some of her customers have "been getting bent out of shape" just because she carries his book — what with that cover of Abe holding a blood-splattered ax — but she read his book and she's glad she read his book because it's surprisingly well-done considering that it's about, you know, Abraham Lincoln hunting vampires.
He smiled.
Then he said what he's been saying since last spring, since his previous book, "Pride and Prejudice and Zombies," sold more than 1 million copies.
He said, thanks.
A curious sequence of events have happened to Seth Grahame-Smith, 34, and "Abraham Lincoln: Vampire Hunter," which was released March 2. Last year, "Pride and Prejudice and Zombies" became an out-of-left-field hit. Which led to Grand Central Publishing (a Hachette imprint) signing him to write a novel about Lincoln's secret war with the undead. Which led to Tim Burton deciding to make an "Abraham Lincoln: Vampire Hunter" movie. Which led Grand Central to order a 200,000-copy first printing of "Abraham Lincoln: Vampire Hunter." Which led to shockingly appreciative reviews from the Los Angeles Times and Time magazine.
Which led, most shockingly of all, to historical institutions and Lincoln scholars embracing him:
Doris Kearns Goodwin, author of the best-selling Lincoln history "Team of Rivals"? Yup. She endorsed the book on National Public Radio, no less.
The Smithsonian? It hosted the author two weeks ago.
The Lincoln Presidential Library and Museum — the most visited presidential library in the country?
"I'm a huge 'Twilight' fan," said deputy director Jennifer Tirey. "I have 'Twilight' things in my office, and I'm always trying to find new things that attract new audiences, and when I saw this book was coming, I jumped. I got a little concerned that people would think we were actually supporting vampires. We're not. But we're not here to cater to historians. We're here to support all sorts of ideas about Lincoln — it's not like even Lincoln scholars agree on everything related to Lincoln anyway."
Which is why, for a short time last month, in conjunction with Grahame-Smith's book, the museum kept a small exhibit dedicated to Lincoln's connections with the gothic — a display that even included the last ax Lincoln wielded, though probably not against vampires.
Fair game
Grahame-Smith is not really a literary guy. He wrote a few novelty books before the zombies-and-Austen mash-up, but really he's more of a TV guy. He produced documentaries for the History Channel. The Lincoln-vampire idea came to him while standing in a bookstore. "Right up front there was the Lincoln table. Next to it was the 'Twilight' table. That was the moment of inspiration," he said. "People can't get enough of those things. I wondered why no one had thought to combine them.
"But I'm not saying Lincoln is fair game. My goal was to get the history right within the frame of a vampire story. What struck me was how beset this guy's life had been with actual violence and tragedy — how gothic it was, and how many opportunities there really were for vampires."
Harold Holzer agrees.
Holzer, one of the leading authorities on Lincoln and co-chairman of the United States Lincoln Bicentennial Celebration, said from his office at the Metropolitan Museum of Art in New York City that there is "enough real blood and ghoulishness in Lincoln's story to lend itself to (vampire fiction). Plague, snows that freeze cattle in place. I think we should let people have fun with Lincoln. It's a compliment to the man and his relevance." In fact, he said his own youthful interest in Lincoln was partly driven by a "Twilight Zone" episode in which a man travels back in time to stop the Lincoln assassination.
As for opposition?
There is some.
There is Richard Norton Smith, founding director of the Lincoln Presidential Library and Museum, now a scholar-in-residence at George Mason University in Fairfax, Va. He did not respond to requests for an interview. But he recently told the Daily Beast Web site that a Lincoln-led vampire tale was "a true bastardization of the Lincoln story." Which was ironic, because midway through Grahame-Smith's tour of the museum, the author came face to face with Richard Norton Smith, who can still be seen narrating a video that introduces the institution's hologram-fueled, seat-jolting multimedia spectacle "Ghosts of the Library." When the video was over, Schwartz leaned over to Grahame-Smith: "He's actually a nice guy."
"It's OK," the author mumbled. "It's inevitable."
Never challenged
That night, the crowd for Grahame-Smith was so large his appearance had to take place in the museum's rotunda. Only Doris had a bigger crowd, whispered David Blanchette, the museum's communications director. The audience was young, wearing cargo shorts and baseball caps. Grahame-Smith spoke sheepishly. He told them he had never been to Springfield, that his book "could not have been written without the Internet," that any authenticity it has in regard to Illinois geography is thanks to Google Maps.
He asked if there were any questions. There were: "Which is harder to kill — a vampire or a zombie?"
A vampire, he said.
How many vampires did Abraham Lincoln kill?
"When he was a prairie lawyer," Grahame-Smith explained, "he was killing vampires up and down the state of Illinois. So, a lot."
Earlier in the day he said he expected to be confronted by outraged scholars, especially here, in the Land of Lincoln. But he was never challenged. He told the crowd that teachers have told him they couldn't get their kids to read Jane Austen until "Pride and Prejudice and Zombies." He said it to illustrate that all it took to get 400 people in the audience were a few blood-suckers.
"OK, last question?"
"How about doing Roosevelt next?" a man shouted. "Only hunting werewolves?"
Grahame-Smith smiled. "Let's not go there," he said.
Copyright 2018 The Lawrence Journal-World. All rights reserved. This material may not be published, broadcast, rewritten or redistributed. We strive to uphold our values for every story published.